Territorial Governors | Back to North Dakota Governors
GEORGE F. SHAFER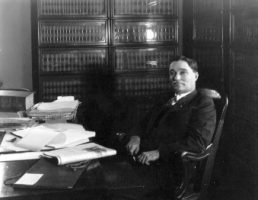 Sixteenth Governor
Residence: Bismarck, Burleigh County
Years Served: 1929-1933
Date of Inauguration: January 9, 1929
Age at Inauguration: 40
Politics: Republican (Independent Voters Association)
Born: Mandan, Dakota Territory - November 23, 1888
Died: Bismarck, North Dakota - August 13, 1948
Political Background:
1915-1919: State's Attorney for McKenzie County
1921-1922: Assistant Attorney General of North Dakota
1922-1929: Attorney General of North Dakota
1929-1933: Governor of North Dakota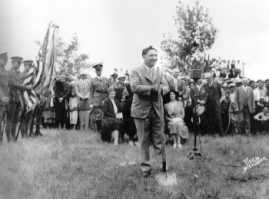 Governor Shafer throws out the first shovelful of earth
for groundbreaking of the new capitol on August 13,
1932. North Dakota's capitol is one of three Art Deco
style capitol buildings in the United States. (The others
are in Nebraska and Louisiana.)
The most severe problems facing the state during Shafer's administration were drought and low prices for agricultural products. To his credit, the State Mill and Elevator showed a good profit for the state under Shafer's direction, despite the weather and economic conditions. In 1930 the state capitol (former territorial capitol) burned. A capitol commission was formed to oversee the design and construction of the new capitol.
Shafer was governor during a time of severe drought and economic depression.