Territorial Governors | Back to North Dakota Governors
WILLIAM LANGER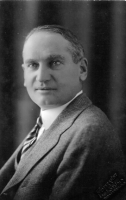 Seventeenth Governor
(First Term)
Residence: Casselton, Cass County
Years Served: 1933-1934
Date of Inauguration: December 31, 1932
Age at Inauguration: 46
Politics: Republican (Nonpartisan League)
Born: Casselton, Dakota Territory - September 30, 1886
Died: Washington, D.C. - November 8, 1959
Political Background:
1914-1916: State's Attorney for Morton County
1916-1920: Attorney General of North Dakota
1933-1934: Governor of North Dakota (removed from office)
1937-1939: Governor of North Dakota
1940-1959: United States Senate
William Langer studied law at the University of North Dakota and Columbia University. He began his law practice at Mandan. As state's attorney of Morton County, he began making a name for himself politically. He swore out 167 warrants for arrest of liquor dealers and vice operators - and that was on his first day of work! He successfully sued Northern Pacific Railway for $1,250,000 in back taxes, establishing a reputation as an enemy of corporations. Langer was backed by the Nonpartisan League (NPL) in his successful bid for attorney general and governor. He was daring and outrageous in his staunch support of North Dakota farmers. When the price of wheat fell low, Langer declared an embargo on North Dakota wheat until prices rose. He also declared a moratorium on farm foreclosures, even resorting to use of the National Guard to stop sheriffs' sales.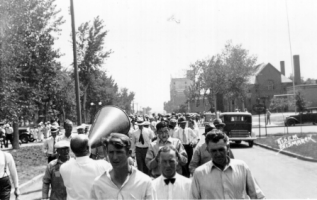 Langer supporters demonstrate at Bismarck.
In 1934 he was found guilty of "conspiracy to obstruct federal relief legislation by soliciting political contributions from federal employees." He was removed from office, sentenced to eighteen months in prison, and fined $10,000. It would take three more trials, but eventually Langer was acquitted of all charges. Governor Langer was one of North Dakota's most controversial politicians. He was removed from office after a federal court found him guilty of fraud and conspiracy. After a year and a half and three more trials, the decision was overturned, and Langer was found innocent of the original charges. He ran for governor again and was reelected.