Territorial Governors | Back to North Dakota Governors
WALTER J. MADDOCK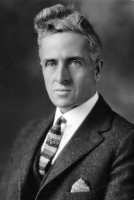 Fifteenth Governor
Residence: Plaza, Mountrail County
Years Served: 1928-1929
Date of Inauguration: August 28, 1928
Age at Inauguration: 47
Politics: Republican (Nonpartisan League)
Born: Grand Forks, Dakota Territory - September 13, 1880
Died: Bismarck, North Dakota - January 25, 1951
Political Background:
1914-1924: North Dakota State House of Representatives
1924-1928: Lieutenant Governor of North Dakota
1928-1929: Governor of North Dakota, remainder of Arthur G. Sorlie's term
Lieutenant Governor Walter J. Maddock became governor when Arthur G. Sorlie died in office. Maddock was a very strong supporter of the Nonpartisan League, and he supported state-owned industries (Bank of North Dakota and the State Mill and Elevator). In 1928 Maddock ran for re-election, after switching from Republican to Democratic politics. He was defeated by Republican George F. Shafer. Maddock returned to farming and was active in organizing farmers' cooperatives. In 1933 Maddock became senior administrative officer of the regional Agricultural Adjustment Administration. From 1937 until his retirement in 1950, he served as head of North Dakota's Farm Security Administration office.Maddock was the first North Dakota governor born in the state.
Lieutenant Governor Walter Jeremiah Maddock became governor when Arthur G. Sorlie died in 1928.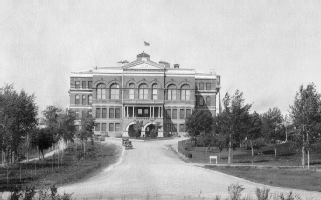 New North Dakota State Capitol, Bismarck 1889
In 1883 the Dakota Territory capitol location was changed from Yankton to Bismarck. A capitol building was under construction by 1883. In 1889 this building became the state capitol of North Dakota, and South Dakota constructed its own building at Pierre.
This North Dakota capitol burned on December 28, 1930, and the present-day skyscraper was constructed in the early 1930s.