Territorial Governors | Back to North Dakota Governors
ELMORE Y. SARLES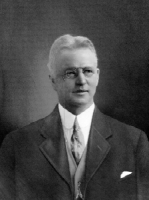 Ninth Governor
Residence: Hillsboro, Traill County
Years Served: 1905-1907
Date of Inauguration: January 4, 1905
Age at Inauguration: 45
Politics: Republican
Born: Wonewoc,
Died: Hillsboro, North Dakota - February 14, 1929
Political Background:
ca. 1900: Mayor of Hillsboro
1905-1907: Governor of North Dakota
Elmore Yocum Sarles attended public schools in Prescott, Wisconsin, and one year at Galesburg University at Galesburg, Wisconsin. He was one of five members of his high school graduating class to later become state governors.Sarles was a shrewd, successful businessman. In 1881 he arrived in Hillsboro, Dakota Territory, and founded the Traill County Bank. In 1885 the bank nationalized as the First National Bank of Hillsboro, with Sarles as its president. Sarles and his business associates started or acquired additional banks at Caledonia, Grandin, Shelly, Minnesota, and Northwood.In 1882 he founded a line of retail lumberyards, and was a partner in the J. H. and O. C. Sarles Lumber Company. He engaged in real estate and investment businesses, and owned huge tracts of farm lands in Traill County.After serving one term as mayor of Hillsboro, Sarles was elected governor. His motto was "more business in government," and there was a surplus of $200,000 in the state treasury when he left office.
Elmore Y. Sarles was a wealthy, successful businessman in the Red River Valley. Sarles and his business associates owned banks in many North Dakota and Minnesota communities.