Territorial Governors | Back to North Dakota Governors
FRANK WHITE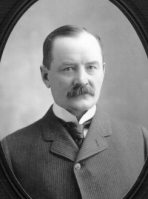 Eighth Governor
Residence: Valley City, Barnes County
Years Served: 1901-1905
Date of Inauguration: January 10, 1901
Age at Inauguration: 44
Politics: Republican
Born: Stillman Valley, Illinois - December 12, 1856
Died: Washington, D.C. - March 23, 1940
Political Background:
1890: North Dakota State House of Representatives
1892: North Dakota State Senate
1901-1905: Governor of North Dakota
1915-1917: North Dakota State Board of Regents
1921-1928: Treasurer of the United States
Born in Illinois in 1856, Frank White was active in Republican politics most of his life. Serving in both the Spanish-American War and World War I, White was descended from Revolutionary War participants on both sides of his family. He received a bachelor's degree in civil engineering at the University of Illinois in 1880. He was awarded the Doctor of Laws degree from the same University in 1904, during his second term as governor of North Dakota.White came to Valley City in 1882. He purchased land from the Northern Pacific Railroad and began farming. He joined the North Dakota National Guard soon after arriving in the state, and served as Captain of Company G. When the Spanish-American War began, White resigned from the North Dakota State Senate and sold his farm. He was commissioned a major in the First North Dakota Volunteers. He served in the Philippines, and participated in the capture of Manila. He was highly respected as a leader and was awarded the Silver Star for bravery during combat.After returning to civilian life in 1899, White purchased a new farm, this time near Litchville. In addition to farming, he was active in insurance and real estate, as well as politics.White served two terms as governor of the state. The north wing of the old capitol was constructed during his administration. A $223,000 state deficit was eliminated during his term, and a sinking fund was created to pay the bonded debt.After serving as governor, White returned to private business. He organized the Middlewest Fire Insurance Company and served as its president until 1913. In 1914 he organized the Middlewest Trust Company and served as president until the American entry into World War I.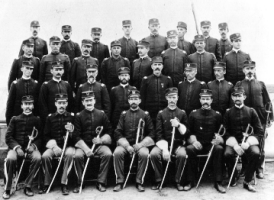 Governor White was a major in the National Guard. He
commanded the First North Dakota Volunteers in the
Philippines during the Spanish-American War. He
commanded the Second North Dakota National Guard
Regiment in World War I.
(White is third from the left in the front row.)
White reentered active military service during the war. He commanded the Second North Dakota National Guard Regiment which later merged into the 41st Infantry Division. He was sent overseas in 1918. Due to his age, he was not assigned to combat duty. After the war, White returned to work as president of Middlewest Trust Company. However, he was still not finished with public service.In 1921 Frank White was named U.S. treasurer by President Warren G. Harding. He succeeded Treasurer John Burke (who had also served as governor of North Dakota from 1907-1913). When Calvin Coolidge became president in 1924, he asked White to remain as treasurer.White resigned as treasurer of the United States in 1928 to become president of Southern Mortgage Guaranty Corporation at Chattanooga, Tennessee. He continued to be active in business until he retired.
Frank White was the first North Dakota governor to serve two terms. He was active in farming, insurance, and banking. Frank White served as treasurer of the United States from 1921 to 1928.