Territorial Governors | Back to North Dakota Governors
FRANK A. BRIGGS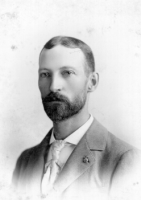 Fifth Governor
Residence: Mandan, Morton County
Years Served: 1897-1898
Date of Inauguration: January 6, 1897
Age at Inauguration: 38
Politics: Republican
Born: Hennepin County, Minnesota - September 15, 1858
Died: Bismarck, North Dakota - August 9, 1898
Political Background:
1885-1887: Treasurer of Morton County
1894: North Dakota State Auditor
1897-1898: Governor of North Dakota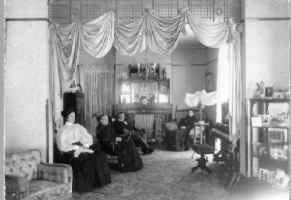 Governor Briggs's body lying in state at the North Dakota
governor's mansion, August 1898.
Born and educated in Minnesota, Frank A. Briggs worked as a printer and newspaperman before coming to North Dakota in 1881. He worked in real estate for a while at Mandan. After serving as Morton County treasurer and North Dakota state auditor, he was elected governor in 1896. During Briggs's administration, a general railway law was passed that regulated the transportation of passengers and freight. Also, a general revenue law was passed. Many of its provisions had been suggested by Briggs. The citizens of North Dakota were stunned when Briggs became the first state governor to die in office. His death was caused by tuberculosis. Briggs's term of office was completed by Lieutenant Governor Joseph M. Devine.