Territorial Governors | Back to North Dakota Governors
ROGER ALLIN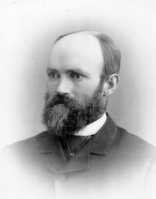 Fourth Governor
Residence: Fertile Township, Walsh County
Years Served: 1895-1897
Date of Inauguration: January 10, 1895
Age at Inauguration: 46
Politics: Republican
Born: Devonshire, England - December 18, 1848
Died: Park River, North Dakota - January 1, 1936
Political Background:
1886: Territorial Council (Re-elected in 1888)
1889: Constitutional Convention
1889: North Dakota State Senate
1891: Lieutenant Governor of North Dakota
1895-1897: Governor of North Dakota
When Roger Allin was three years old, his family emigrated from England to Ontario, Canada, where he received a public school education and went into farming. In 1881 he came to Dakota Territory and filed a claim for 160 acres in Walsh County. Eventually his holdings expanded to 240 acres. In 1882 he was elected justice of the peace, and served several terms. As governor, Allin approved of laws creating an historical commission and a geological survey of the state. He also approved of garnishment laws and regulation of dairy products. The financial panic of 1893 caused a state of economic depression. During Allin's administration, crops were poor and prices were low for farm products. Consequently, there was a shortfall in the state's collected tax revenue. There was not enough money to pay the legislative appropriations for governmental operating expenses. Governor Allin invoked a line-item veto (to veto separate items in the appropriations bill). He cut funding for the state university at Grand Forks and the state colleges at Valley City and Mayville. The citizens of Grand Forks, Traill, and Barnes Counties were furious and condemned the veto as an unnecessary discrimination against the educational interests of the state.
Governor Allin was a native of England.