Territorial Governors | Back to North Dakota Governors
C. NORMAN BRUNSDALE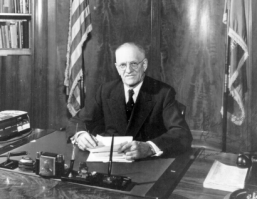 Twenty-fourth Governor
Residence: Mayville, Traill County
Years Served: 1951-1957
Date of Inauguration: January 3, 1951
Age at Inauguration: 59
Politics: Republican
Born: Sherbrook, North Dakota - July 9, 1891
Died: Mayville, North Dakota - January 1978
Political Background:
1927-1934, 1940-1950: North Dakota State Senate
1951-1957: Governor of North Dakota
1959-1960: United States Senator
Clarence Norman Brunsdale was educated in public schools and the Bruflat Academy at Portland, North Dakota. In 1913 he graduated from Luther College at Decorah, Iowa. He returned to Portland where he taught at Bruflat and worked the family farm operations in Traill and Steele counties.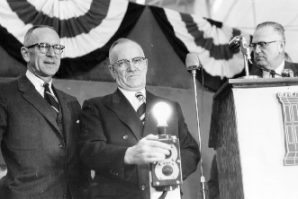 Governor Brunsdale takes part in a ceremony at Garrison
Dam, demonstrating hydroelectric "power on the line,"
June 1956.
As governor, Brunsdale was an avid supporter of water development projects. During his administration Garrison Dam was completed and the Legislature established the Garrison Diversion Conservancy District. The early 1950s also saw the establishment of the Highway Department and the passage of major highway legislation. Education, agriculture, and mental health issues were also important to Governor Brunsdale. Former Governor Norman Brunsdale was appointed to the U.S. Senate upon the death of William Langer.