Territorial Governors | Back to North Dakota Governors
FRED G. AANDAHL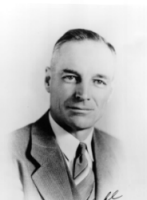 Twenty-third Governor
Residence: Litchville, Barnes County
Years Served: 1945-1951
Date of Inauguration: January 4, 1945
Age at Inauguration: 47
Politics: Republican
Born: Litchville, North Dakota - April 9, 1897
Died: Fargo, North Dakota - April 7, 1966
Political Background:
1931, 1939, 1941: North Dakota State Senate
1945-1950: Governor of North Dakota
1951-1953: United States House of Representatives
1953-1961: Assistant Secretary of the United States Department of the Interior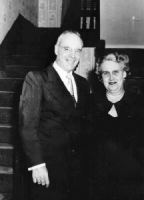 Governor Aandahl and Mrs.
Aandahl at the North Dakota
governor's residence.
Fred George Aandahl attended a one-room country school near Litchville. He graduated from the University of North Dakota in 1921. He taught school for five years before becoming Superintendent of Schools at Litchville. He returned to farming in the 1920s, and ran for governor as a "dirt" farmer with a college education. Aandahl was a leader of the ROC (Republican Organizing Committee), a conservative faction within the Republican party. Aandahl was a staunch supporter of the Rural Electrification Administration and Garrison Diversion. As a legislator, Aandahl sponsored the State School equalization fund. Governor Aandahl was a leader of the Republican Organizing Party.