Territorial Governors | Back to North Dakota Governors
LYNN J. FRAZIER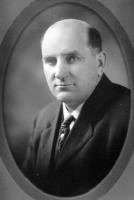 Twelfth Governor
Residence: Pembina County (Hoople Post Office)
Years Served: 1917-1921
Date of Inauguration: January 3, 1917
Age at Inauguration: 42
Politics: Republican (Nonpartisan League)
Born: Steele County, Minnesota - December 21, 1874
Died: Riverdale, Maryland - January 11, 1947
Political Background:
1917-1921: Governor of North Dakota (removed from office by recall)
1923-1940: United States Senate
Lynn Joseph Frazier was the first Nonpartisan League governor of North Dakota. He was elected in 1916, 1918, and 1920. However, he was removed from office in 1921 in a recall election. Frazier was governor during a very turbulent time in North Dakota's history. Between 1915 and 1921, citizens of the state were caught between bitterly opposing political forces--particularly those of the Nonpartisan League (NPL) and Independent Voters' Association (IVA). Farm prices were down, crops were poor because of weather, and the state was left in an economic depression following World War I.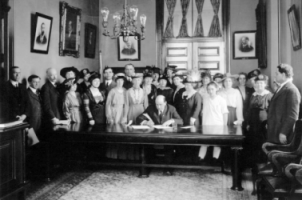 Women became enfranchised voters during Frazier's
administration. He is shown here signing the Women's
Suffrage Bill January 23, 1917. Governor Gilbert A. Pierce
had vetoed a women's suffrage bill in the 1800s.
The NPL successfully sponsored a number of radical changes in legislation during Frazier's administration. Some of these changes included the establishment of state-owned industries: the Bank of North Dakota and the State Mill and Elevator. An Industrial Commission, consisting of the governor, attorney general, and commissioner of agriculture and labor, was established to oversee the operations of the state-owned industries. The state hail insurance system was overhauled, and a graduated income tax and an inheritance tax were introduced. One constitutional amendment established a procedure for the recall of public officials. Ironically, this procedure was immediately put to use in the recall of Governor Frazier and the rest of the Industrial Commission. The year after Frazier's expulsion from the governor's office, he successfully ran for the United States Senate, and served from 1923 to 1940. During his seventeen years in the Senate he was known as a spokesman for agriculture. Prior to his career in state and national politics, Frazier was a farmer and school teacher. He graduated from Grafton High School in 1892 and Mayville Normal School (teachers' college) in 1895. He completed his bachelor's degree at the University of North Dakota, graduating with honors in 1902. As a young farmer, Frazier became involved in local politics, serving on the township board and school board. When the Nonpartisan movement began in 1915, Frazier became an active participant. Although he was a popular governor (elected three times), Lynn J. Frazier became the first public official in the United States to be removed from office by recall election.