Territorial Governors | Back to North Dakota Governors
LOUIS B. HANNA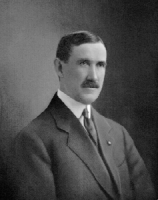 Eleventh Governor
Residence: Fargo, Cass County
Years Served: 1913-1917
Date of Inauguration: January 8, 1913
Age at Inauguration: 51
Politics: Republican
Born: New Brighton, Pennsylvania - August 9, 1861
Died: Fargo, North Dakota - April 23, 1948
Political Background:
1895-1897: North Dakota House of Representatives
1897-1901: North Dakota State Senate
1905-1909: North Dakota State Senate
1909-1913: United States House of Representatives
1913-1917: Governor of North Dakota
Born in New Brighton, Pennsylvania, Louis B. Hanna grew up and received his education in Massachusetts and New York.In 1881 L. B. Hanna and his brother, Robert C. Hanna, came to Dakota Territory and began farming near Hope. L. B. Hanna sold his land in 1882 and moved to Page where he began his career as a businessman. He started a retail lumber company, then expanded into grain handling. Soon he needed banking facilities, so he opened a private bank at Page. The bank became a state bank, then became the First National Bank of Page. Hanna served as president.Hanna moved to Fargo in 1899, serving as vice president of the First National Bank of Fargo. During his second term in the State Senate he represented the Ninth (Fargo) District. During Hanna's term as governor, he, his family, and a committee went to Norway. On July 4, 1914, at Christiania, they presented the people of Norway with a statue of Abraham Lincoln. Later, King Haakon VI of Norway decorated Governor Hanna with the Grand Cross of Saint Olaf of the First Rank. Governor Hanna served as chairman of the Liberty Loan drives in 1917 and 1918. During World War I he served in France as a captain in the American Red Cross. He was cited as an officer of the French Legion of Honor by the French government. Hanna continued his business interests in agriculture, banking, and other enterprises until his retirement. Louis Benjamin Hanna had successful lumber, grain handling, and banking businesses in the Red River Valley.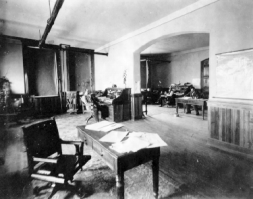 An interior view of the capitol, 1913.
Several interesting details can be observed in Governor Hanna's office. Notice the stenciled design on the walls, above the wood wainscoting. There is a telephone beside the governor's desk, and pencils and quill pens are scattered near his documents and correspondence.