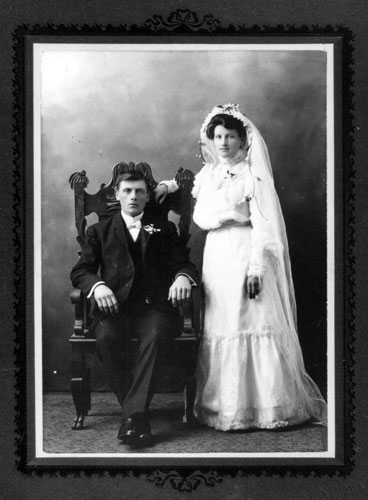 Erick Sannes & Bertine Sem
Photo by Erickson Studio, Bottineau
Erling Sannes Collection,
SAHRL 798:010
Bertine's Tale
Bertine Sem was born in Snassa, Norway on August 12, 1879. She immigrated to North Dakota arriving in April 1902. Sem declared her intent to became an American citizen on May 7, 1902, and that same day, filed for her homestead in Bentinck Township, Bottineau County. The nearest town was Westhope, to the northeast, and Bottineau, the county seat, was 32 miles to the east. She filed her final homestead papers on December 22, 1904, at the land office in Mohall.
Click here to view a PDF of Bertine's Homestead Document & Proof.
Like many young women who homesteaded in northeastern North Dakota, she married. Bertine Sem married Erick Sannes, also from Snassa, Norway, on January 25, 1905. Unlike many of her contemporaries, her husband moved to her homestead to raise their family of six children: Melvin, Olaf, Esther, Bertha, James, and Harold. Bertine died on May 27, 1955, her husband on July 30, 1972.