Northern Pacific Railroad

. . . . the grants to railway companies of alternate sections of land upon the contemplated issues of their roads, which when completed will so largely multiply the facilities for reaching our distant possessions.
Abraham Lincoln, December 8, 1863, Third State of the Union Address.
The great enterprise of connecting the Atlantic with the Pacific states by railways and telegraph lines has been entered upon with a vigor that gives assurance of success; notwithstanding the embarrassments arising from the prevailing high prices of materials and labor.
Abraham Lincoln, December 6, 1864, Fourth State of the Union Address.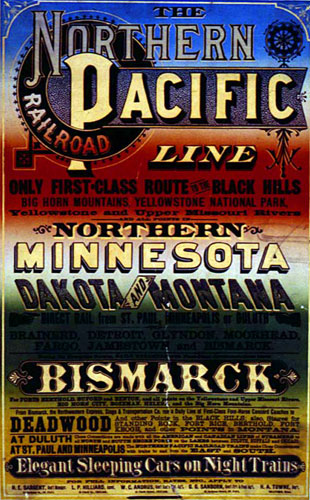 SHSND 2917 - SAHRL 20781
Abraham Lincoln signed the charters for the transcontinental railroads, creating the Union Pacific, the Northern Pacific, and Southern Pacific. Lincoln signed the Northern Pacific Railroad charter on July 2, 1864. The line ran from Duluth, MN, to Bismarck and on to Oregon.
The government gave the railroad 46,000,000 acres of land to pay for construction. The railroad was given every other section, usually the odd-numbered sections in townships within a 40-mile corridor on either side of the railroad line. The railroad company sold the land east of the Missouri River for $4.00/acre and west of the Missouri River for $2.60/acre.
Click here to view a PDF of the Northern Pacific Railroad Act, Courtesy of the United States National Archives and Records Administration, Washington, D.C.
This Northern Pacific Railway Broadside, ca. 1875, is an advertisement for routes available from Bismarck, DT.