Organizing Dakota Territory

The Territories of Colorado, Dakota, and Nevada, created by the last Congress, have been organized, and civil administration has been inaugurated therein under auspices especially gratifying when it is considered that the leaven of treason was found existing in some of these new countries when the Federal officers arrived there.
The abundant natural resources of these Territories, with the security and protection afforded by organized government, will doubtless invite to them a large immigration when peace shall restore the business of the country to its accustomed channels.
Abraham Lincoln, December 3, 1861, First State of the Union Address.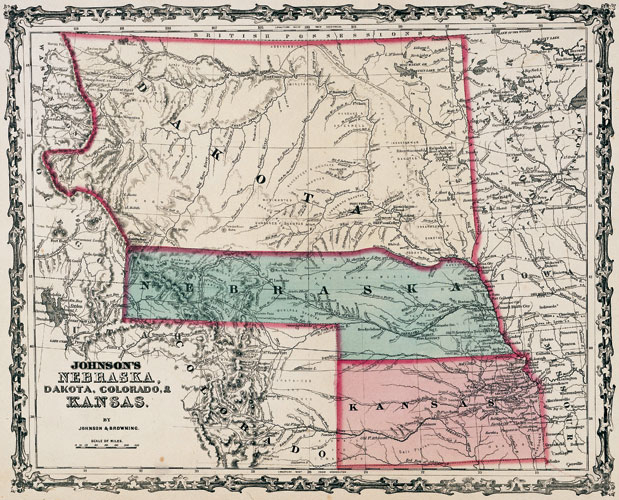 Johnsonís Nebraska, Dakota, and Kansas
From Atlas by Johnson and Browning, 1861.
Size: 14" x 18" SAHRL 978/1862/J63
This map pictures the original Dakota Territory, consisting of the present states of North Dakota, South Dakota, Montana, and Wyoming. Parts of North Dakota were included in seven different territories prior to the establishment of Dakota Territory in 1861.