Territorial Governors | Back to North Dakota Governors
JACK DALRYMPLE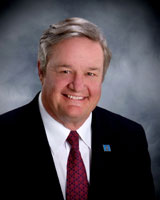 Thirty-second Governor
Residence: Bismarck, North Dakota
Years Served: 2010-2016
Date of Inauguration: December 7, 2010
Age at Inauguration: 62
Politics: Republican
Born: Minneapolis, Minnesota - October 16, 1948
Political Background:
1985-2000: North Dakota House of Representatives
2000-2010: Lieutenant Governor
2010-2016: Governor of North Dakota
Born October 16, 1948, Dalrymple grew up in Casselton on the family farm, established in 1875 by his great-grandfather. He graduated with honors from Yale University in 1970 with a bachelor's degree in American Studies and then returned to North Dakota to manage the farming operations.
Dalrymple became active in the community serving on the Casselton Jobs Development Commission and helping establish Share House, Inc., a Fargo residential treatment program for recovering alcoholics and drug dependents. Dalrymple came to the North Dakota Legislature in 1985, representing a rural Cass County House district. He served eight terms, including six years as chairman of the House Appropriations Committee. In 2000, he was elected North Dakota's 35th Lieutenant Governor with Governor John Hoeven and was re-elected in 2004 and 2008. Dalrymple was sworn in as the 32nd Governor on December 7, 2010.
Dalrymple and his wife, Betsy, have four daughters.