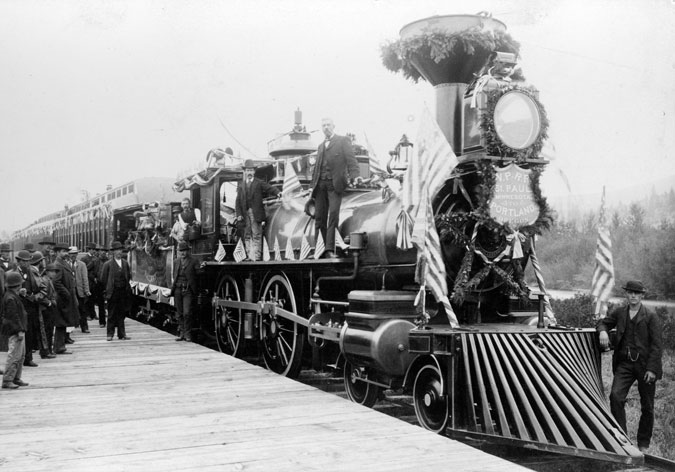 The Villard "Gold Spike" Excursion.
Photo by Frank Jay Haynes, Fargo, DT, 1883.
SAHRL C0857
American settlement of the Northern Plains commenced in earnest after 1861, when Dakota Territory was organized by Congress. Significant immigration commenced when the westbound Northern Pacific Railway built to the Missouri River in 1872 and 1873. Along and near its line, new towns sprang up to serve the settlers, the tracklaying crews, and other, sometimes rowdy frontier citizens. Fargo and Bismarck, for example, both began as rough-and-tumble railroad communities. Spurred by the 1862 Federal Homestead Law, farming settlement developed gradually after the first claim west of the Red River was filed in 1868.
A great settlement "boom" in northern Dakota occurred between 1879 and 1886. During those years, over 100,000 people entered the territory. The majority were homesteaders, but some organized large, highly mechanized, well capitalized bonanza farms. These operations, several of which lasted into the 20th Century, made names such as Dalrymple and Grandin well known throughout the United States and helped publicize the northern frontier.
Ethnic variety characterized the new settlements. Following the first settlement "boom", a second boom after 1905 increased the population from 190,983 in 1890 to 646,872 by 1920. Many were immigrants of Scandinavian or Germanic origin.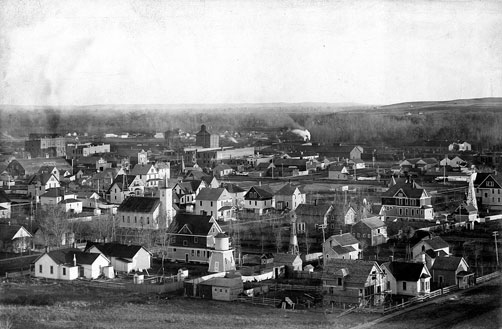 Mandan, ND 1907
State Archives #0090-0123Norwegians were the largest single ethnic group, and after 1885 many Germans immigrated from enclaves in the Russian Ukraine. A small, but strong community of Scotch-Irish-English background played an especially influential role, contributing many of North Dakota's early business and political leaders. Many other groups, including Asians, Blacks, and Arabs, settled throughout North Dakota. So significant was this foreign immigration that in 1915 over 79% of all North Dakotans were either immigrants or children of immigrants.
The influence of the railroads and their business allies guided northern Dakota from its earliest territorial days. Led by political agent Alexander McKenzie of Bismarck and St. Paul, these groups worked to attract investment capital to the Northern Plains. The 1883 removal of the territorial capitol from Yankton to Bismarck on the main line of the Northern Pacific Railway demonstrated the power of these outside corporate interests in Dakota Territory's affairs.