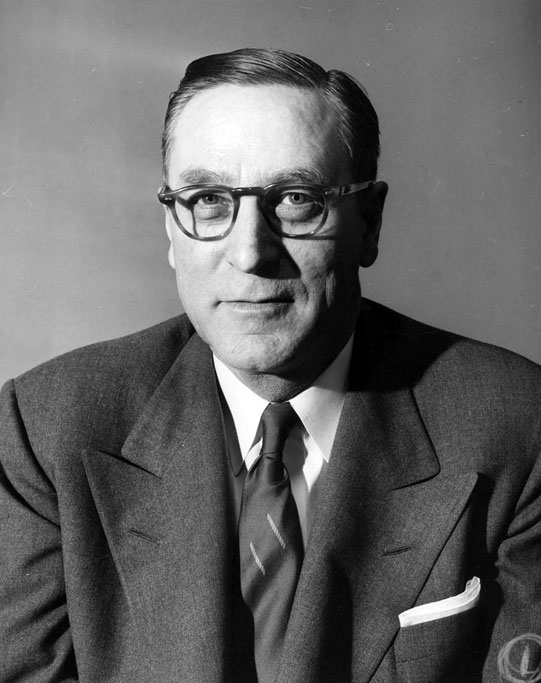 Sen. Milton Young, 1955
State Archives #0005-593
Even as the state modernized, established political patterns continued. A new insurgency, the Republican Organizing Committee (ROC), quickly became powerful after 1943. It elected Fred Aandahl as Governor in 1944 and controlled the office until the late 1950s. Its leaders included Milton R. Young, who was selected to fill the Senate seat vacated by the death of John Moses in 1945 and served until 1981. ROC success forced realignment in state politics; to unite liberals under one banner, the Nonpartisan League and the Democratic Party moved toward consolidation in the 1950s finally agreeing to run a unified ticket in 1956 and eventually merging in 1960. The Democratic-NPL obtained some immediate success; in 1958, well-known liberal leader Quentin N. Burdick became North Dakota's first Democratic congressman, and in 1960 the party gained the Governor's office and held it continuously for the next twenty years, including four consecutive victories by William L. Guy (1961-1973) and two by Arthur A. Link (1973-1981).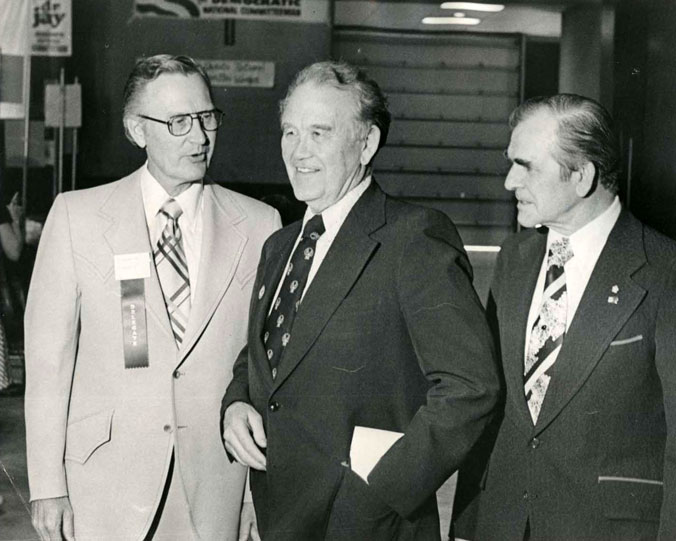 Gov. William Guy, Sen. Quentin Burdick, and
Gov. Arthur Link at 1976 Democratic Convention
State Archives #0080-Box1-file03-17
In the 1980s, political control of the state has shifted between the two parties. Republican Allen I. Olson upset incumbent Governor Link in 1980; the election put many Republicans into state office and in part resulted from the overwhelming popularity of Presidential hopeful Ronald Reagan. Within two years, however, Democratic-NPL efforts to regain the party's momentum resulted in steady gains, and in 1984 Olson's bid for re-election was stymied by Casselton farmer George A. Sinner. In 1986, Democrats for the first time won control of the State Senate, as well. After a century of domination by the Republican Party, North Dakota now has a vibrant two-party politics.
The major issues of the 1970s and 1980s have been modern incarnations of longtime debates. One important issue has been economic development, and once again the discussions have centered on the creation of a climate favorable to capital investment in the state. A struggling farm economy has brought many changes to the state, and demands for improved state services for people with special needs have forced major reallocation of available tax dollars. The basic issue has been determining the proper uses for limited tax resources and the most productive ways to stimulate economic development.