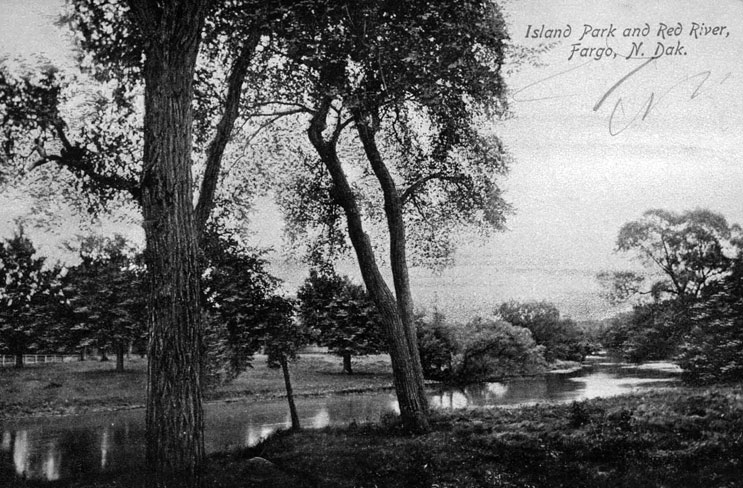 Island Park and Red River, Fargo ND
State Archives #A5150-01
The fur trade linked the Northern Plains to a world-wide economic and political system. European nations, competing for mercantile supremacy, claimed the plains, and Great Britain, France, and Spain exchanged the territory several times through wars and treaties. In the 1763 Treaty of Paris, all French lands drained by Hudson's Bay were given to Great Britain, including the country tributary to the Red River of the North. France had ceded lands drained by the Missouri and Mississippi Rivers to Spain one year earlier; this territory was returned to France in 1800. Three years later Emperor Napoleon Bonaparte sold French possessions to the fledgling United States. This sale, known as the Louisiana Purchase, inaugurated American ownership of lands now included in North Dakota.
Intense competition characterized the fur trade, and rival companies competed for prime locations. In 1801, Alexander Henry, Jr., established a post at Pembina that after 1812 became the center for an agricultural colony sponsored by the British crown. However, British influence diminished along the Missouri after 1800, and the Red River Valley likewise fell into American control in 1818 when the London Convention established the 49th Parallel as the northern boundary between the United States and British possessions in North America. Ironically, many of the colonists near Pembina moved north into Canada when an 1823 boundary survey found them to be residing in the United States.
With several notable exceptions, contact between the Native peoples and American traders, explorers, and military personnel in the Northern Plains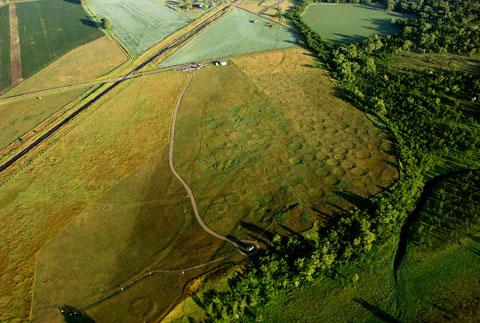 Ft. Clark Aerial View remained peaceful during the early 19th Century. Indians became instrumental in the fur trade; major trading posts at Fort Union and Fort Clark, and others of lesser significance, catered mainly to Native trappers and hunters. In exchange for their meat and furs, the Indians received guns, metal tools, cloth and beads, and other trade goods. This exchange forever altered Indian cultures, and it often brought dangers; in 1837, for example, smallpox virtually wiped out the Mandan people at Fort Clark.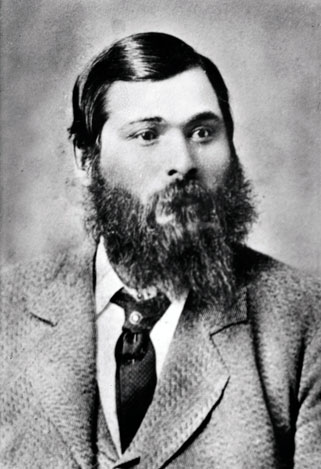 Antoine Gingras
State Archives
#0200-4x5-282
In the Red River Valley, the fur trade created a new nation, the Métis. Descended from Euro-American fur trade employees and Chippewa Indian women, the Métis melded the two cultures in language, lifestyle, and economy. In 1843, regular caravans of high-wheeled, wooden Red River carts began hauling buffalo robes and pemmican, the proceeds from semi-annual hunts, to St. Paul along well-worn trails. The Métis center in the United States was St. Joseph (now Walhalla), and men such as Antoine Gingras headed a self-conscious new nation. The Méti nation, however, faded as the buffalo became ever less available east of the Missouri River.