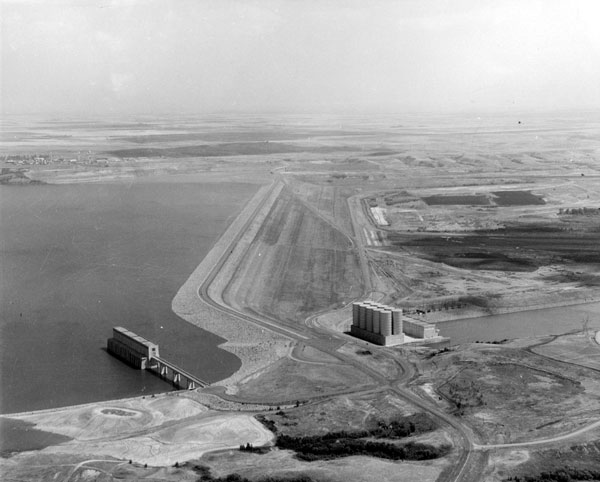 Garrison Dam nears Completion, 1949-1952
State Archives #0073-097
Wartime prosperity continued into the late 1940s. Major Federal projects kept the construction economy booming, for example. In 1946, the demand for Missouri River flood control and diversion of the river's waters for irrigation and industrial development were rewarded with initiation of construction on the Garrison Dam; project supporters also envisioned a grand scheme of canals to move the water into other parts of the state, and the project's start seemed the realization of dreams voiced since the early 1920s. Reservoirs on the Sheyenne, James, and other rivers were also constructed for flood control and municipal water purposes.
Development of natural resources expanded in 1951 when oil was discovered near Tioga. The resulting "oil rush" coincided with expanding use of lignite coal to generate electricity; in 1952 and 1954, two coal-fired plants were built near Velva and Mandan, and oil refineries were established at Williston and Mandan, as well.
Communication and interstate transportation systems improved dramatically during the 1950s. The first television station went on the air in 1952 at Minot. Construction of a Federal controlled access highway system began in 1956. In addition, by 1960 two large Air Force bases had been built at Grand Forks and Minot, a modern continuation of an historic role in Federal military strategy that began in the 1860s. Changes in communications and transportation were enhanced by better airline service and a rapid shift away from dependence on railways. Though airline routes had included North Dakota since 1927, regular service expanded in the 1940s and 1950s, at least in part as a result of a conscious effort by state government to develop local and regional airports. Likewise, the steadily more modern network of state and federal highways made truck transportation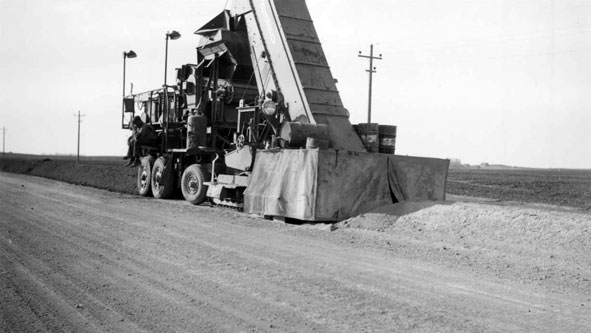 Barber Greene Equipment doing Highway Construction
State Archives #0056-185into a viable alternative to railroads. Those same highways made private auto transportation more reliable; more North Dakotans bought cars after World War II than ever, soon giving the state a ratio of over two vehicles for every person in the state. As a consequence, however, use of rail passenger service declined, and by the end of the 1950s railroads had increasingly become a means for hauling freight, not people.