Previous | Next
The boom-and-bust cycles in North Dakota's agriculture and energy industries have rippled through the state's economy. Recent administrations have re-doubled efforts to encourage new industry and to stimulate other sources of revenue. Some successes, notably the development of agricultural equipment manufacturing and food processing, have occurred.
As North Dakota has sought to attract new sources of jobs and income, greater attention has been paid to tourism. Substantially larger amounts of public money have been devoted to promotion and development of historic and recreational attractions. To attract visitors, efforts to liberalize restrictive "blue laws" have expanded. The campaign began in 1979, when some forms of gambling were legalized; in the 1980s, the opportunities for legal gambling have been increased, and several attempts to relax historic "blue laws" that limit business operations on Sunday and the sale of liquor have become topics for public debate.
As North Dakota's economy and politics have changed, so has the composition of its society. Demand for better public services for disadvantaged citizens resulted in lawsuits that forced improvement in state facilities and de-institutionalization of many handicapped people. Declining enrollments in elementary and secondary schools have brought about consolidations and school closures. In higher education, public debate has centered on the number of colleges and universities in North Dakota and called attention to the state's ability to support those institutions adequately.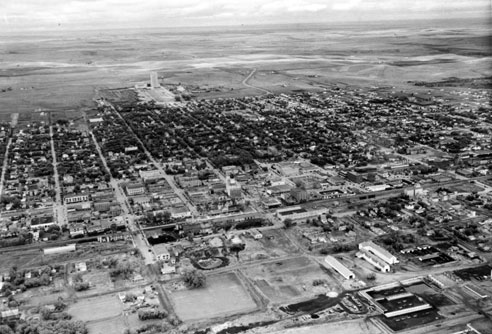 Aerial View of Bismarck, 1965
State Archives #0261-025
Perhaps the most striking change, however, is reflected by a 1987 census figure. According to census estimates, more North Dakotans now live in cities and towns than in rural areas, an alteration with dramatic implications for the structure of the state's economy and the composition of its government.
The issues that face modern North Dakota remain tied to its history. Attracting the capital necessary to develop necessary services, providing jobs and income for the people, and diversifying a colonial economy are tasks that have faced the state's leaders since its earliest days. The old issues of self-determination and popular control are yet relevant as North Dakota enters its second century.
Larry Remele
State Historical Society of North Dakota
North Dakota Heritage Center
612 E. Boulevard Ave.
Bismarck, ND 58505-0830
Bibliographical Essay
The basic books about North Dakota history are Elwyn B. Robinson, History of North Dakota (Fargo: The Institute for Regional Studies, North Dakota State University, 1995); Robert P. and Wynona H. Wilkins, North Dakota: A History (New York: W.W. Norton Co., 1977); Thomas Howard, ed., The North Dakota Political Tradition (Ames: Iowa State University Press, 1981); William C. Sherman and Playford V. Thorson, eds., Plains Folk: North Dakota's Ethnic History (Fargo: North Dakota Institute for Regional Studies, 1987); and Mary Jane Schneider, North Dakota Indians: An Introduction (Dubuque, IA: Kendall-Hunt, 1986). Much information has also appeared in North Dakota History, the quarterly journal of the State Historical Society of North Dakota (index available).
Previous | Next