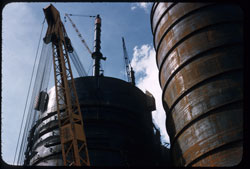 2004-P-001 John And Virginia Craven
1950
Slides of Garrison Dam construction starting in December 1950. (30 items)
2004-P-002 Whitestone Hill
1910-1920
Panorama photo of group at Whitestone Hill taken by Fred S. Graham of Ellendale ND with identification of some individuals. (1 item)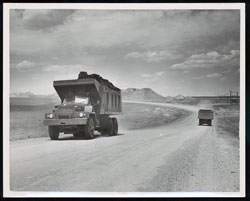 2004-P-003 Coal Mining Gascoyne ND
1950
Images of coal mining operations in North Dakota including Gascoyne ND. (12 items)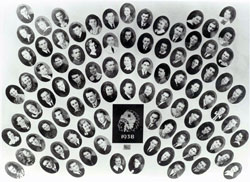 2004-P-004 Mandan High School
1938, 1946
Images of the Mandan High School Graduating Class of 1938 with identification and of Margaret Kastner, mother of donor Connie Dunn, in Los Angeles 1946. (2 items)

2004-P-005 Civilian Conservation Corps Members North Dakota
1920-1940
Panorama photos of CCC Camp members from North Dakota. (13 items)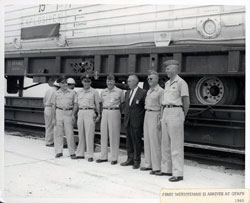 2004-P-006 Grand Forks Air Force Base
1960-1980
Photo albums and slides of Grand Forks Air Force Base.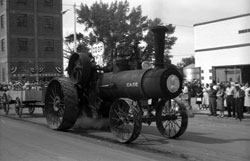 2004-P-007 Ashley Tribune
1950-1990
Photographs and negatives dating from approximately the 1950s to 1990s dealing with agriculture, transportation, recreation/entertainment, buildings, rural views, post cards, natural disaster, portraits, religion, sports, awards/ceremonies, fine arts/folk arts, bands, clubs/societies, government, education, parks/forests, cemeteries/graves, courthouses, medicine, and military. (1773 images)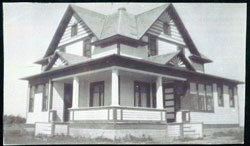 2004-P-008 Berg Farm
1920-1930
Images of the Berg farm in Larson ND. (3 items)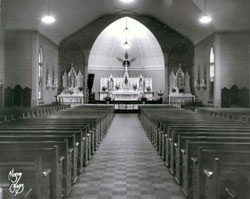 2004-P-009 St. Mary's Church Bismarck ND
1910-1990
Images of St. Mary's Catholic Church in Bismarck ND. (9 items)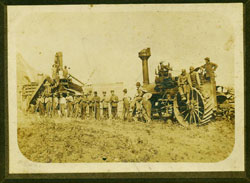 2004-P-010 Schweitzer
1903-1960
Images of agricultural work and of Henry and Ruth (Hewy) Schweitzer. (4 items)
2004-P-011 Stan Saugstad Family
1920-1950
Collection of images of Stan Saugstad family in Minot ND. (140 items)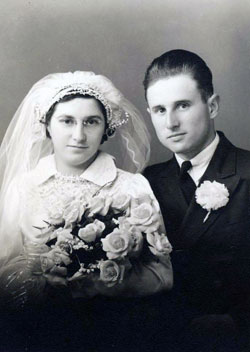 2004-P-012 Flasher ND Jubilee
1939
Images of Flasher ND from 60th Jubilee including images of Farmers' Celebration, Rev. Bue and the Ladies Aid, and Mr. & Mrs. Hudsonbehler and Francis Stegmill. (3 items)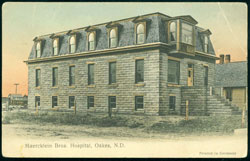 2004-P-013 Kristine Stillwell
1910
Colored post card of Maercklein Brothers Hospital in Oakes ND. (1 item)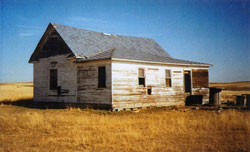 2004-P-014 Mastel-Ziegler
1947-1989
Images of Joseph & Eva Ziegler farm in Oliver County SE of Beulah Township 142N Section 30 or 31. (10 items)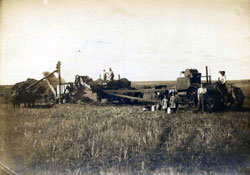 2004-P-015 Meyer
1907
Image of threshing crew and family in field. (1 item)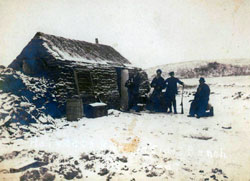 2004-P-016 Anderson
1907-1910
Images of homesteads and farming in North Dakota including Yule ND, Badlands, and Twin Buttes. (13 items)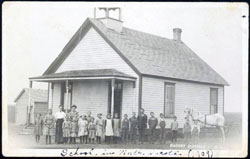 2004-P-017 James E. True
1900
Images of a girl in an automobile in Landa ND, Barney District #1 School with students and a street view of Mooreton ND. (3 items)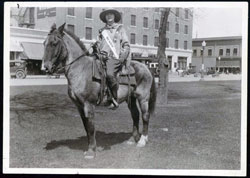 2004-P-018 Weiler
1900
Images of the original State Capital after it burned, Memorial Building, Sakakawea Statue, St. Joseph's Catholic Church in Mandan, Elsie Brandt Yonaka Bolerud "Miss Mandan" and Main Street Bismarck ND. (6 items)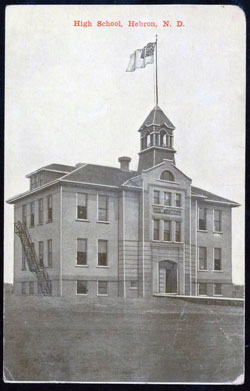 2004-P-019 Jack Feil
1900-1936
Images and postcards including the Soo passenger depot Bismarck, original State Capitol, high schools in Hazen and Hebron, the Y.M.C.A. in Fargo, the Ford Building Fargo, the Great Northern passenger station Fargo, Broadway Looking North Fargo, the Chicago, Minneapolis and St. Paul Depot in Aberdeen SD, the Aberdeen National Bank, crew posed in front of new Capitol construction, Bismarck Plant crew 1936. (14 items)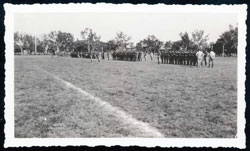 2004-P-020 Fort Lincoln Civilian Military Training Camp
1936-1937
Images of Civilian Military Training camp at Fort Lincoln, miscellaneous North Dakota images, two Military Training Certificates and a Christmas card to Elvin & Lister Greek from Mr. and Mrs. Thomas Bjuland. Pictures of Robert Bristow, Mission, SD, and David Sokilik St, Francis, SD. (29 items)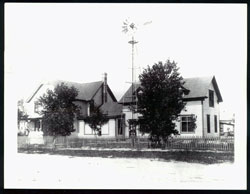 2004-P-021 Beach, ND Hospital
ca. 1900
Images of hospital and staff in Beach ND. (3 items)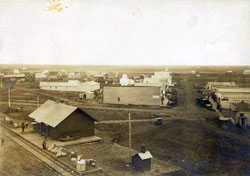 2004-P-022 Upham ND
1915-1919
Images of Upham ND Mercantile and interior view of the Smith Tillman Law Office. (3 items)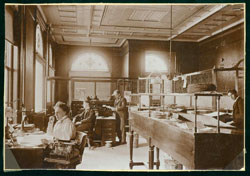 2004-P-023 First National Bank Bismarck ND
circa 1879-circa 1985
Images of First National Bank building exterior and interior. (41 items)

2004-P-024 Wild Rose ND
ca. 1900
Images of downtown Wild Rose ND including the Winkjer Garage. (2 items)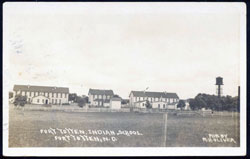 2004-P-025 Fort Totten Indian School
ca. 1900
Exterior image of school, colored postcard of female students, and a group in a buggy. (3 items)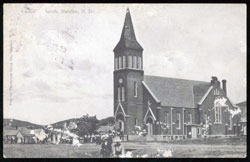 2004-P-026 Shirley Willey
ca. 1900
Image of basketball team and three postcards of Ross, Mandan, and Lisbon ND 1900's. (4 items)
2004-P-027 Standing Rock Sioux
ca. 1900-1928
Images of Standing Rock Sioux 1900's including a baby, a wedding couple, a spelling contest and a dance outside Carignan Store Fort Yates. (5 items)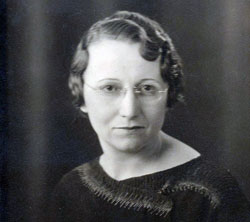 2004-P-028 Carl Strum
1919
Image of Tina Ackerman former maid to Governor and Mrs. William Langer. (1 item)
2004-P-029 Lean Bear Family
1900-1910
Images of Lean Bear family members.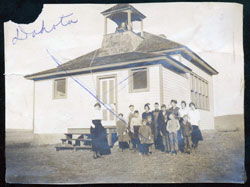 2004-P-030 North Dakota School and Children
1910-1920
Images of a North Dakota School and children. (5 images)