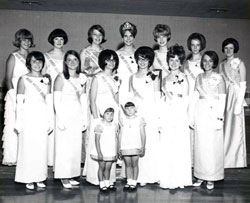 MILK STABILIZATION BOARD (Milk Marketing Board)
[Authorized: NDCC Chapter 4-18.1]

Established in 1967, (S. L. 1967 Ch 79) the North Dakota Milk Stabilization Board consists of five members who are appointed by the governor for five year staggered terms: a dairy farmer selling to a processor selected from two names submitted by the North Dakota Milk Producers Association, a processor selected from two names submitted by the North Dakota Dairy Industries Association, a retailer selected from two names submitted by the North Dakota Association of Food Retailers, and two consumers who are not engaged in the milk business. Appointees may not hold any public office either elected or appointed during the term on the board or two years prior to appointment. The board elects a member as chairman, who holds the office for one year. The board selects an executive secretary and meets every sixty days. Vacancies are filled by the governor (S. L. 1981, Ch. 70).
The board promotes and assures an adequate supply of fresh and wholesome milk to the public. Recognizing the perishable nature of milk, the board sets minimum dairy farmer, wholesale, and retail prices on milk products; eliminates unfair and demoralizing trade practices; and provides economic stabilization to the dairy industry. The board designates natural statewide market areas and prescribes and enforces minimum producer, distributor and retail prices in each area. The board maintains at all times current information of the quantities of Grade A milk available in each marketing area (S. L. 1969, Ch. 85).
Through public hearings and audits, the board supervises, investigates, and regulates all segments of the Grade A dairy industry. The board may hold a public hearing for the purpose of establishing prices and when this is done a local advisory board is appointed. The advisory board is made up of two producers and two processors (S. L. 1967, Ch. 79). A change in 1969 included two retailers (S. L. 1969, Ch. 85). Although most of the price regulating is done for Grade A the board does have the power to set minimum prices for raw milk through stabilization plans (S. L. 1975, Ch. 56).
Since 1969 (S. L.1969, Ch. 85) the board licenses all Grade A dairy farmers, processors, distributors and retailers who sell or handle milk products and frozen dairy products. Through its licensing functions, the board attempts to provide a viable market for Grade A dairy farmer milk and Grade A milk products manufactured within the state and tries to prevent North Dakota from becoming a dumping ground for dairy products from other states. Additionally a dairy farmer must be licensed to sell milk for consumption by the board as a "dairy farmer" if the milk is purchased by a licensed processor [NDCC 4.18.1-08]. There is no charge for the license, but the dairy farmer must first furnish proof of inspection by the department of agriculture or the state department of health who set regulations and inspections (S. L. 1969, Ch. 85).
To finance the work of the board a levy on the hundredweight of the total volume of milk sold is assessed on each processor and distributor. In 1969 (S. L. 1969, Ch. 85) the levy was five cents per hundredweight on milk or milk equivalents used for the manufacture of milk product and frozen dairy products processed by licensed processor. The assessment increased in 1975 to eight cents per hundredweight (S. L. 1975, Ch. 56), and in 1995 the assessment became twelve cents per hundredweight with a provision that the assessment may be increased to thirteen cents in 1997 and fourteen cents in June 1999 (S. L. 1995, Ch. 69). No increases occurred during those sessions. Funds are deposited with the state treasurer into the milk marketing fund and are paid out within the limits of legislative appropriations.
The board may also act as a mediator or arbitrator in connection with any controversy or issue among or between dairy farmers, processors, distributors, retailers, or consumers if it pertains to the production, transportation, processing, storage, distribution, or sale of milk products.
The Milk Stabilization Board was renamed the Milk Marketing Board in 1995. The board remained at five members who are appointed by the governor; one dairy farmer, one processor, one retailer, and two members not associated with the milk industry. The executive secretary was renamed director and the board may appoint necessary assistants as needed (S. L. 1995, Ch. 69). The board is required to meet at least every sixty days.
CHRONOLOGY
1967 Milk Stabilization Board created. Governor appoints five members (S. L. 1967, Ch. 79).
1969 New laws relating to regulations in price and trade practices. Five cents per hundredweight assessment paid by processors enacted. Many other new provisions concerning licensing and minimum prices for raw and other grades of milk (S. L. 1969, Ch. 85).
1975 New regulations for dairy farmer prices on all Grade A milk and establishment of stabilization plans for grades of raw milk. Assessment increases to eight cents per hundredweight (S. L. 1975, Ch. 56).
1981 Qualifications for board membership changes. Board given authority to hire executive secretary and assistants or employees as needed (S. L. 1981, Ch. 70).
1983 Qualifications for board membership change to expand and evenly distribute membership throughout the state (S. L. 1983, Ch. 82).
1993 Board required to report to the legislative assembly the status of activities and finances between the first and tenth day of each regular assembly and to submit a summary of activities, financial statements of revenue and expenses, and anticipated revenue and expenses for the next biennium (S. L. 1993, Ch.51). In 2009 this was changed (S. L. 2009, Ch. 70).
1995 Name changed to Milk Marketing Board. Executive secretary is renamed director, assessment increased to twelve cents per hundredweight with provision for increases in future years (S. L. 1995, Ch. 69).
2009 Milk Marketing Board removed from commodity groups and the method they use for yearly reporting (S.L. 2009, Ch. 70).
SERIES
31591 Minutes and Actions
SOURCES
North Dakota Century Code.
North Dakota Secretary of State Blue Book.
North Dakota State Legislature Session Laws.