Trade at Menoken
Recovered stone, metal, and shell artifacts show that the people were involved in trade systems that spanned the continent. It is not clear how these systems worked. Residents at Menoken probably did not travel far beyond what is now central North Dakota, and it is unlikely that any person from the village actually visited any source for exotic materials. They probably received these items through what archaeologists call "down-the-line" exchange. The same materials were valued or prized by many different social groups. The value of these items was high enough to keep them moving across great distances and passing through the hands of owners speaking many languages.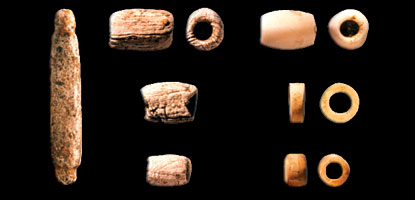 Several tiny obsidian pieces were found in excavations. Obsidian is a volcanic glass that has a very sharp cutting edge when fractured. The nearest and most likely source for this stone is near present-day Yellowstone National Park, about 520 miles away.
Many metal objects were found at Menoken, including recent gun shell casings and beverage cans just beneath the sod, owing to use of the site as picnic and hunting area during the last century. The most surprising discovery of metal was six very small artifacts made of native raw copper, dating to AD 1200. The nearest source for this copper is in extreme eastern Minnesota.
The marine shell ornaments are probably the farthest from their sources, which could have been the Gulf of Mexico, the Atlantic Ocean, or the Caribbean Sea. Other shells came from the creek nearby or from the Missouri River and could have been gaming pieces and paint dishes, as well as decorative ornaments.
Several fossil shells were found in the excavations. These include two species of fossil freshwater snails from a 60-million year-old geologic formation that outcrops along the Missouri River. A fragment of a marine cephalopod or ammonite was also recovered.