Remembering Lincoln in Places
Fort Abraham Lincoln
Fort McKeen was established on June 14, 1872, as an infantry post near Mandan. The post was renamed Fort Abraham Lincoln on November 19, 1872. Lt. Col. George A. Custer and the 7th Cavalry left the post in May 1876, seeking to engage the Dakota. At a battle along the Little Bighorn River in Montana, on June 25, 1876, Dakota, Cheyenne, and Arapaho warriors wiped out Custer and 263 of his men. Fort Abraham Lincoln was abandoned by the army in 1891, and the land was opened to settlers. The modern state park was created in the 1930s by men working on projects under the auspices of the Civilian Conservation Corps and Works Progress Administration.
Fort Lincoln
North Dakota National Guard members training on the parade ground, Fort Lincoln, 1916.
Photo by Olsen. SAHRL 0039-0084
In 1903 construction began south of Bismarck on a new post named Fort Lincoln. During the Mexican Expedition of 1916, and World War I, the fort served as the embarkation point for the North Dakota National Guard. Fort Lincoln was an internment camp during World War II for sailors of the German merchant marine, German-American Bund members, and Japanese sympathizers. Since 1969 the former fort has been the home of United Tribes Technical College. The internationally renowned United Tribes International Powwow has been held each fall since 1970 and attracts 1,500 dancers who represent 70 Indian nations.
Lincoln Street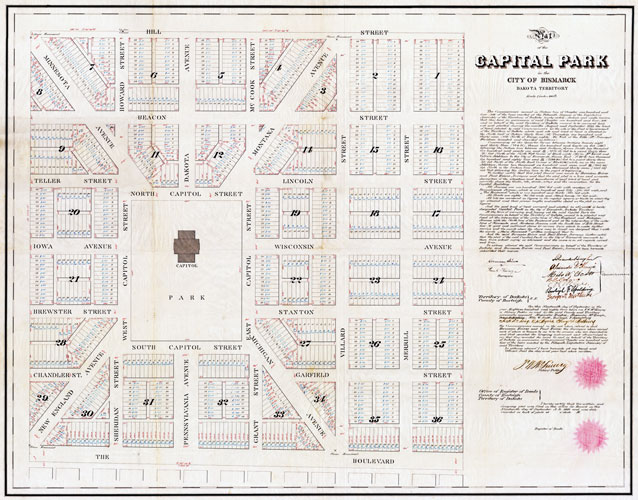 Plat of the Capital Park in the City of Bismarck, DT.
Preserved at the State Archives and Historical
Research Library, SHSND, Bismarck, ND.
During October 1883 Bismarck was named the new capital of Dakota Territory by a commission created by the Territorial legislature for that purpose. The town offered $50,000 cash and a half section of land, half of which embody the present North Dakota State Capitol grounds. But difficulty was experienced in raising the cash, so the Capital Commission surveyed and platted that quarter as the "Capital Park"—36 blocks of various sizes and shapes surrounding a central site where the new capitol building would be located. The lots were put on sale in an auction on October 24, 1883. Street names reflect former American presidents, American heroes, and business leaders.
The commissioners filed this plat on September 19, 1883. The sale of the lots was intended to fund the construction of Dakota's new Capitol. Measurements regarding lot sizes and street width are given in red ink, while the price of each lot is given in blue.