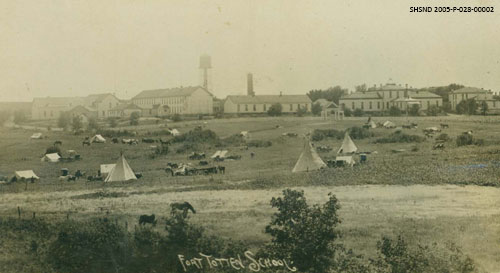 Visitors to Fort Totten will discover an introductory exhibit in the Fort Totten Interpretive Center in the Commissary Storehouse (Building 23). The orientation describes the military, Indian school, and historic preservation activities at Fort Totten. While strolling around the parade ground, one can explore several structures open to the public or view window exhibit panels describing the function of key buildings. Buildings painted gray with red trim display the original military color scheme. Buildings painted white with green trim show the post-1904 Indian school color scheme.
The Company Barracks/Main school (Building 14) is the home of the present-day Fort Totten Little Theater, where a local musical theater group stages productions during July. An Indian school classroom display as well as artifacts from Plummer's Mercantile Store of Minnewaukan, North Dakota, are exhibited in this building, and vending machine concessions are available.
The Hospital/School Cafeteria (Building 7) is used by the Lake Region Pioneer Daughters as a museum. The Commanding Officer's Quarters, which later was the Superintendent's Home, (Building 3) is currently being restored and is open when staff are available for tours. The Powder Magazine/School flour storage (Building 9) contains a museum display. The Company Barracks/Boy's Dormitory (Build­ing 11) hosts traveling exhibits and features an audiovisual program about Fort Totten history.
Window exhibits in three buildings feature photographs of life at the fort and school. The three buildings are the Second Lieutenant's Quarters/ Principal's Office and Print Shop (Building 5), the Quartermaster's Storehouse/Bakery, Laundry and Harness Shop (Building 10), and the Company Barracks/Boys Dormitory (Building 12). Restoration has been completed on the Commissary Storehouse/Shop (Building 23) and Powder Magazine/Storage Area (Building 9) and is in progress at one of the Captain's and First Lieutenant's Quarters/Girls' Dormitory (Building 2), and at the Commanding Officer's Quarters/ Superintendent's Quarters (Building 3).
Fort Totten State Historic Site is listed on the National Register of Historic Places and is open year-round as an outdoor museum.

Follow Fort Totten State Historic Site on Facebook!