Fort Totten is one of the best-preserved frontier military posts in the United States. The fort was built between 1868 and 1873 as a military outpost, but it actually served for most of its history as an Indian boarding school. The original garrison policed the surrounding military reservation, guarded overland mail and transportation routes, and oversaw Sioux Indians living on the Devils Lake Sioux Indian Reservation. Units stationed here included detachments of the famous 7th U.S. Cavalry. Sixteen of the original structures used by the U.S. military between 1867 and 1890 still stand at Fort Totten State Historic Site.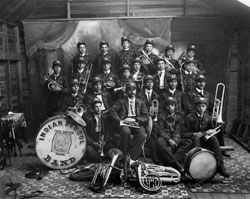 Decommissioned as a military post in December 1890, Fort Totten became an industrial school for Indian children in January 1891. The military buildings were adapted to the various needs of the school. Sioux children were the first students at the boarding school but were later joined by Chippewa children from the Turtle Mountain Indian Reservation and others. Students received vocational and academic training in such skills as seamstress/tailoring, harness and shoe making, baking, farming, dairying, printing, and carpentry.
The Fort Totten school functioned as a tuberculosis preventorium between 1935 and 1940, a five-year experimental program to care for and educate children with tuberculosis. After 1940 Fort Totten returned to its day and boarding school function until 1959 when the facility and students moved to a new school just east of the site. Fort Totten became a state historic site in 1960.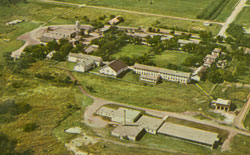 The original brick military structures standing around the original parade ground are the Adjutant's Office, two First Lieutenant's quarters, two Second Lieutenant's Quarters, Commanding Officer's Quarters, Chaplain's and Surgeon's Quarters, Hospital/Chapel, Commissary Storehouse, Quartermaster's Storehouse, Powder Magazine, three Company Quarters, and Bakery. A fourth Company Barracks was demolished, and the school replaced it with a wood-frame gymnasium in 1922. Soon after, the gymnasium burned to the ground and a new one built in 1923.

Follow Fort Totten State Historic Site on Facebook!