Plaza and Ceremonial Lodge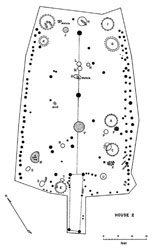 Mandan villages had a central plaza and a community structure or ceremonial lodge opening onto the plaza. Ceremonies were held in the community lodge, while dances and other events occurred in the plaza. Historically, a prominent person in the appropriate clan was designated as keeper of the ceremonial lodge and resided with his family in that structure.
The ceremonial lodge stands apart from the other houses in the village because of its large size and prominent placement. Its entrance faces toward the center of the village plaza. However, it was built the same way as other long-rectangular houses in the village. This house has a central hearth, auxiliary hearths, and several bell-shaped pits. The features within the house contained common domestic trash, indicating the house was likely a residential dwelling of some kind.
Village Fortifications and Human Conflict
The fortification system at Huff Village is a classic example of civil defense and community preparation for conflict. Inter-village conflict may have been heightened by drought, climatic change, and related population movements.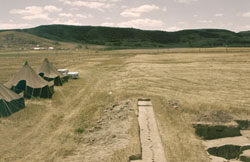 Three sides of Huff Village were protected by a ditch and a palisade wall of closely-spaced wooden posts. Ten bastions or outwardly projecting loops existed along the wall lines strategically placed at the village corners and at intervals of 180 to 240 feet along the palisade line. A ditch was constructed around three sides of the village, just outside the palisade line.
Construction of the fortification system involved a huge amount of labor as well as heavy use of local timber resources. Excavation of several sections of the palisade wall shows that the posts were about eight inches in diameter and centered about one foot apart. About 2500 posts were used in the palisade wall. The supply of posts probably came from the trees along the banks of the Missouri River somewhere near the village.
Today the ditch is about 15 feet wide and about 2 feet deep. When this village was occupied, the ditch was about 5 feet deep. Dirt removed from the ditch was thrown inside, and the posts of the palisade wall were set in this dirt.