United States Weather Bureau (1894 ‑ 1940)
After the army post was decommissioned in 1894, the buildings were used as offices and as the director's residence for the U.S. Weather Bureau station until 1940. The Weather Bureau compiles statistics regarding precipitation, wind speed and direction, and barometric pressure. Now, as then, the Bismarck office serves as the central hub for data collected throughout the state. This climatological data is used in forecasting weather patterns that affect decisions about everything from crop choices to airplane travel routes to water levels in reservoirs.

Image SHSND 978.477 B542g Camp Hancock as it appeared in 1906. The building
on the right was the Weather Bureau building and is today's museum.
United States Soil Conservation Service (1940 ‑ 1949)
The U.S. Soil Conservation Service occupied the building until May 1949, when a fire forced the abandonment of the structure.
State Historical Society of North Dakota (May 1951 ‑ present)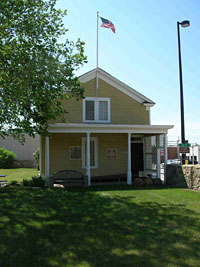 After the site was turned over to the State Historical Society for preservation in 1951, work began on the lone remaining military structure, the officer's quarters from the 1870s. The rooftop observation deck was removed, and fire damage was repaired. The Society opened the building as a museum in 1955.
At this time a recently retired Northern Pacific locomotive was moved onto the site to commemorate the role of the railroad in the creation of Camp Hancock and the city of Bismarck. In 1965 the oldest church in the city was moved to the site. The Bread of Life Church, later renamed St. George's Episcopal, had been in use from 1881 to 1949 and was connected with many events from Bismarck's history.
In 2006, the officer's quarters was painted yellow with white trim, the color it appeared in the early 1900s when it was used by the Weather Bureau.

Follow Camp Hancock State Historic Site on Facebook!