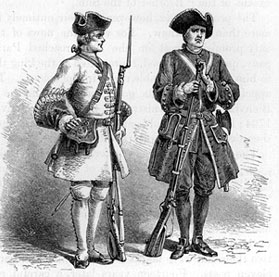 Between 1689 and 1763, there were no less than four colonial wars that involved France, Britain, and Spain and their respective colonial possessions. Rightly called "Wars for Empire", these conflicts were extensions of wars that had erupted on the European mainland or on the high seas over balance of power, expansionism, mercantilism, and Indian alliances.

The first of these conflicts was King William's War (1689-1697) or the War of the League of Augsburg in Europe; Queen Anne's War (1702-1711) or the War of the Spanish Succession; King George's War (1744-1748) or the War of the Austrian Succession. The French and Indian War was the last of the "world wars" to involve the American colonies. One conflict in the 1730's, called the War of Jenkin's Ear, was almost entirely fought at sea between Britain and Spain.

The French and Indian War was the last great war for empire in between Britain and France. Unlike previous colonial wars, this one was fought with North American as the primary theater of operations and was France's last-ditch effort to save her dwindling New World possessions from the English and her Native American allies. Beginning in 1754, a full two years before hostilities broke out in Europe (and there called the Seven Year's War), this war proved to be among the most brutal and was decided ultimately as a result of Britain's Iroquois allies and Prime Minister William Pitt's decision to make North American the center of fighting. Had it not been for the Iroquois Confederacy, the outcome of this war could very well have ended differently.