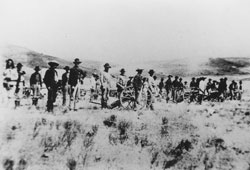 The results of these campaigns were far-reaching. From the perspective of the Euro-American participants, confidence in the security of southern Minnesota and eastern Dakota Territory was restored. Thousands of young men became aware of the fertile lands that could be claimed by a new crop of potential settlers. Growing commercial, agricultural, and transportation endeavors east of the Missouri River were enhanced by the newfound security.
For the Sioux, the events of 1863-1865 permanently changed their way of life. Men, women, and children were killed, and the supplies needed to survive the winter were destroyed. Bands and family groups of Dakotas and Yanktonais, many of whom had not been involved in the original Minnesota warfare, were scattered and forced to leave ancestral homes and traditional hunting grounds. Tribal politics and leadership as well as family relationships were disrupted.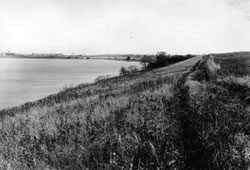 Many Indians located west of the river had also been drawn into the military campaigns. They did not suffer the level of destruction faced by the eastern Sioux but were angered by the military intrusions. These more westerly tribes were facing their own issues, as gold seekers and others crossed their lands. The events of the Sibley and Sully campaigns escalated these intrusions and foreshadowed future conflict. The Indian-white warfare initiated in Minnesota in 1862 continued sporadically on the Northern Plains for another twenty-seven years.