The Founding Community AD 1490 - 1550
The fourth, or outermost, ditch identified in the geophysical survey represents the earliest occupation at the site. The ditch had several well-defined bastions and is no longer visible on the ground surface due to subsequent village activities. Ditch 4 includes several prominent bastions very similar to those at Shermer and Huff villages that date to ca. AD 1350-1460, slightly before the founding of Double Ditch. The outermost ditch encompassed approximately 22 acres. Utilizing the house density present at other sites dating to this time period, there were probably 160 homes and perhaps 2,000 residents within the outer fortification system. The population of Double Ditch would have been larger than at least 95 percent of the towns and cities in North Dakota today.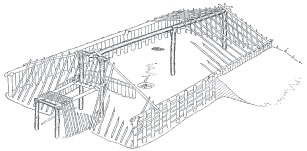 The earliest houses at Double Ditch were likely rectangular in form (like those at Huff and Shermer). The houses were constructed in shallow pits dug about one or two feet below the ground surface. These houses had gabled roofs, supported by three or more main posts placed along the centerline. In the 1500s there was a shift from the rectangular house form to the circular earthlodge.
After the village contracted in size, midden mounds were constructed over parts of Ditch 4.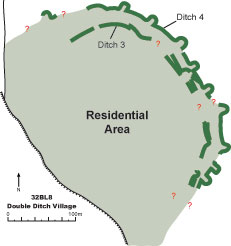 Ditch 3
Ditch 3 is more recent than Ditch 4 and was constructed in the AD 1500s. Ditch 3, with only a few bastions, encompasses 15 acres and, like Ditch 4, is not visible on the surface. It reflects a fallback to a slightly smaller community and a simpler ditch system. The few, small bastions along Ditch 3 are adjacent to the larger bastions along Ditch 4, indicating a close conceptual linkage between these concentric fortification systems. By the late AD 1500s Ditches 3 and 4 were both abandoned, and several earthen mounds were created over these ditches.
The outer two ditches are detectable only through magnetic data, being invisible at the surface. Trenches across these ditches showed their upper parts to have been obliterated. Similarly, only the lower parts of deep storage features remain in residential areas that once existed inside these ditches. Activities of later residents obliterated these older features. When the community contracted, gardening may have occurred in the old village area.

Follow Double Ditch Indian Village State Historic Site on Facebook!