Visitors
Now open in the Heritage Center & State Museum are the first two galleries – the Adaptation Gallery: Geologic Time and the Innovation Gallery: Early Peoples. Also open are the new Museum Store, new Great Plains Theater, the renovated Russell Reid Auditorium, select hallway exhibits, and more.
The children's exhibit area, The Treehouse, will open in summer 2014. The final galleries, the Inspiration Gallery: Yesterday and Today and the Governors Gallery, will open Nov. 2, 2014, in conjunction with our grand opening and North Dakota's 125th anniversary of statehood.
The State Archives is responsible for the documentary collections of the State Historical Society of North Dakota. It is the official state archives, and acquires and preserves all types of research materials, including manuscript collections, books, periodicals, maps, newspapers, audio and video materials, and photographs.
MUSEUM COLLECTIONS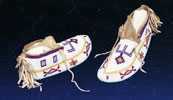 The State Historical Society of North Dakota collects and preserves artifacts chronicling North Dakota's history.
The collections of the Society are available for research. People frequently return to view items donated by family members. To research or view items, please request an appointment. Public Questions form. Your request will be e-mailed directly to the museum staff. An appointment will be made for a mutually agreeable date and time. You will receive a response within 30 days.
The State Historical Society of North Dakota administers a network of 56 state historic sites and interpretive centers.
Address:
612 East Boulevard Ave.
Bismarck, North Dakota 58505
Get Directions
Hours:
State Museum and Store: 8am - 5pm M-F; Sat. & Sun. 10am - 5pm.
State Archives: 8am - 4:30pm., M-F, except state holidays, and 2nd Sat. of each month, 10am - 4:30 pm.
State Historical Society offices: 8am - 5pm M-F, except state holidays.
Contact Us:
phone: (701) 328-2666
fax: (701) 328-3710
email: histsoc@nd.gov