At this time, the North Dakota State Historic Preservation Office does not have an online, searchable database of listed properties. The National Park Service maintains the National Register of Historic Places database, which can be accessed here: http://nrhp.focus.nps.gov/natreghome.do?searchtype=natreghome.
For a basic search:
For all properties listed in North Dakota, leave the "Resource Name" field blank and only fill in the State
For all properties listed in a specific county in North Dakota, leave the "Resource Name" field blank but fill in State and County
To search for a specific site, enter one part of the resource name. For example, enter "bridge" to search for Sorlie Bridge in Grand Forks, or enter "Mansion" to search for the Former Governor's Mansion (officially known as the Former Executive Mansion), in Bismarck
For now, resources that are within a listed historic district are not searchable. If you believe your property is located within an historic district, and you have questions regarding its status, please call the Historic Preservation Division at 701.328.2089. Please have the property's street address at hand.
North Dakota Properties listed in the National Register of Historic Places in 2014: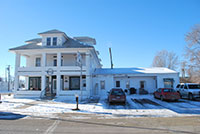 Hotel Brown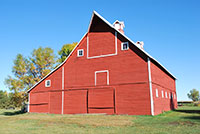 Freborg Homestead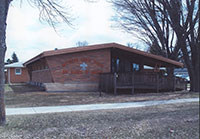 Wells-Denbrook Architects Office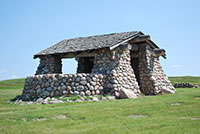 Shelter at Double Ditch Indian Village
State Historic Site
The Hotel Brown in Flasher has had numerous names since it was built in 1910 but it is remembered as the local gathering place for travelers and locals, especially in the 1930s and 1940s. It is one of the oldest buildings in the community in its original location and it still serves the community by providing lodging.
The Freborg Homestead near Underwood includes the 10 acres where the farm buildings sit, most of which were built before 1940. This homestead retains a very high level of integrity and offers an excellent view into how many North Dakotan farms were established.
The U.S. Inspection Stations at Ambrose and St. John were nominated by the General Services Administration- Public Building Services and listed for their association with the U.S. Government's first effort to improve border security with purpose-built inspection stations. These stations also retain integrity of their Colonial Revival architectural design.
Theodore Wells was a prominent architect in Grand Forks and a few years after Myron Denbrook joined the firm, the Wells-Denbrook Architects Office Building in Grand Forks was built. The office reflects the changing tastes of the public after WWII and is considered a key transitional design as efficiency and expression through materials rather than ornamentation came into fashion.
The Depression Era Work Relief Construction Features at Double Ditch Indian Village State Historic Site near Bismarck consists of the stone features and shelter built by the Works Progress Administration between 1937 and 1939 in an effort to mark the recently acquired historic site. All of the features were constructed using granite erratic boulders found in the area and demonstrate the craftsmanship of the time period.