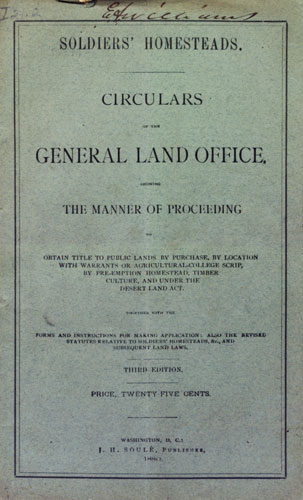 Soldiers' Homesteads. Circulars Of The General Land Office. Showing The Manner Of Proceeding To Obtain Title To Public Lands By Purchase, By Location With Warrants Or Agricultural-College Scrip, By Pre-Emption Homestead, Timber Culture, And Under The Desert Land Act. Together With The Forms And Instructions For Making Application: Also The Revised Statutes Relative To Soldiers' Homesteads, &c., And Subsequent Land Laws.
Third Edition, (Washington, DC: J.H. Soulé, Publisher, 1880), 29 pp.
SAHRL Rare Book Collection, RARE / 333.16 / S6849
This booklet served as a guide to prospective settlers and land agents. This copy was owned by Erastus A. Williams.