Introduction | Field Notes | Typewritten Transcripts | Song/Transcipt | Densmore Article | Activity
Densmore not only recorded the songs, but transcribed the music including the notes and the rhythms of the accompanying drums. Later these handwritten transcriptions were published in one of her many books and bulletins.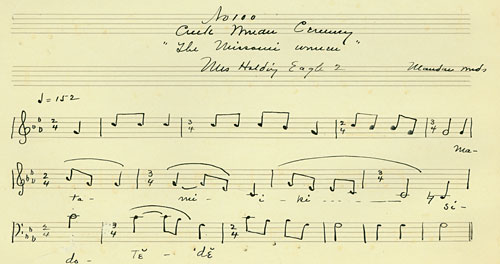 Densmore listened to this song several times to be sure that it was presented to her consistently. She recorded The Missouri Women song in 1912 and 1915. Here you can listen to the 1915 version sung by Scattered Corn, the wife of Holding Eagle. Densmore made the original recording on a wax cylinder. Later the recording was transferred to audio tapes. Wax cylinders record only two minutes of music.