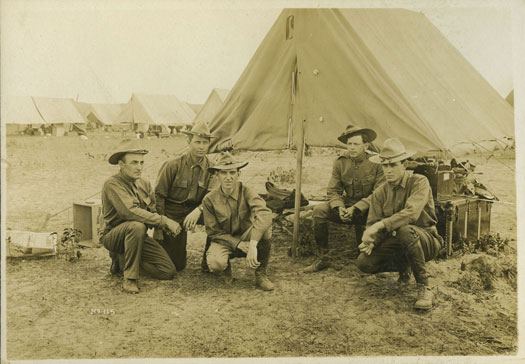 SHSND 10064-14
World War I caused change in North Dakota and the rest of the world. After the outbreak of war in Europe in 1914 the state was reluctant in having the United States enter the war. Whether it was because one-fifth of the state's population were German immigrants or not, many North Dakotan's were isolationists, not wanting to be involved in someone else's war so far away. After the United States broke ties and declared war on Germany, the state rallied in support of the war effort. Many young men went to war, which left a shortage of farm laborers in the state which was promoting the planting of every possible acre in order to help feed the world during the war. Inflation was high and so were grain prices, but unfortunately, below average rainfall caused below average crop yields during the war years.
ARCHIVES HOLDINGS:

10107 Nielson Family
This collection contains newspaper clippings, photos, and biographies of nurses who served in World War I.

10109 Richard Virgil Grace
The Richard Virgil Grace Collection contains manuscripts and correspondence about World War I and World War II.

10229 Frank Last
The Frank Last Papers contain letters, newspaper clippings, and memoirs of Last's time spent in France and Germany during World War I.

10327 World War I
This is a collection of scrapbooks of letters from soldiers in World War I.

10516 Florence Perkinson
This collection contains letters to a soldier in World War I.

10682 J.A. and Anna Graham
The Graham's son was a part of a motorcycle unit in France during World War I. This collection contains letters from the son in France.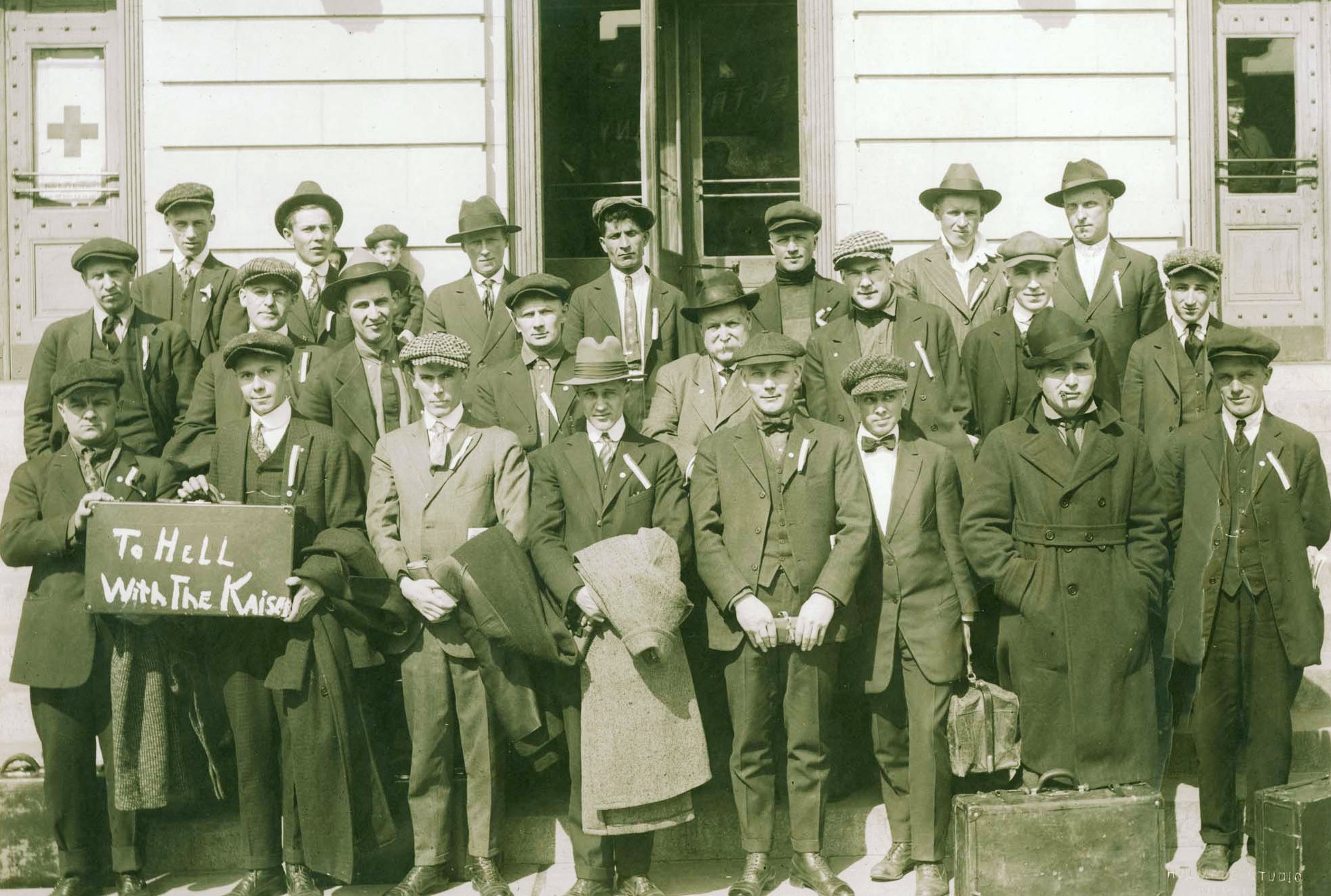 World War I soldiers before deployment. SHSND E0071
10838 Lawrence and Florence Goldsmith
The Lawrence and Florence Goldsmith Papers contain letters from World War I and other family materials.

10932 Edmund J. Shrum
Shrum kept a diary while serving as a soldier in World War I.

10935 World War I Poster Collection
This collection contains posters from the World War I era.

20043 Martin D. Westley
Westley kept a diary of his experiences as a medical officer in the American Expeditionary Forces in World War I.

20065 Deborah Ann Nelson
Nelson wrote letters to her family and kept a diary while she was a nurse in the American Expeditionary Forces in France and Germany.

20208 Leila Halvorson
Leila Halvorson remembers her service as a Red Cross nurse during World War I.

20326 J.M. Haney
Haney's diary is about his time as a soldier in World War I. His diary begins with his enlistment and training.

20945 Albert Wermedahl
During World War I, Albert Wermedahl left his farm in Mayville, North Dakota and entered the war effort. While at training, he died of grip, or the Spanish Flu. This folder documents his short time in training. There are letters pertaining to farming activities happening back in Mayville. The rest of the collection contains information about what happened after Wermedahl passed away.

SUGGESTED READINGS:

Iseminger, Gordon L. "Are we Germans, or Russians, or Americans? The McIntosh County German-Russians During World War I." North Dakota History, Spring 1992: 2-16.
This article describes the hardships of the Germans from Russia had with figuring out their identity in the early 1900s. Iseminger writes about the World War I era and the effect on those identified as both Germans and Russians.