SUGGESTED READING:

Lewis, Meriwether, and William Clark. "Lewis and Clark in North Dakota." North Dakota History, April 1947-January 1948.
These publications of North Dakota History contain the original journal entries of the time spent in what was to become North Dakota written by Lewis and Clark. They also contain an edited version of the text.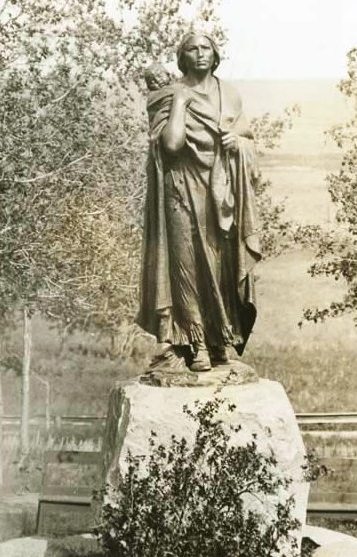 Sakakawea and Jean Baptiste. SHSND 2011-P-011-01
Crawford, Helen. "Sakakawea." North Dakota Historical Quarterly, April 1927: 5-15.
This article explains why Lewis and Clark found Sakakawea helpful on their expedition. Sakakawea and her son Jean Baptiste both played a very important role in the Corps of Discovery's journey.

Reid, Russell. "Sakakawea." North Dakota History, April-July 1963: 101-113.
Reid's article outlines the importance of Sakakawea to Lewis and Clark. The article also explains the spelling and pronunciation of her name.
Finding Aids on the Louisiana Purchase in North Dakota: