ARCHIVES HOLDINGS:

10085 Orin G. Libby
In Folder 21 of Box 24 in the Orin G. Libby Collection, there are responses to questionnaires about Wibaux. Libby contacted as many people who knew and worked with Pierre Wibaux as he could. The questions on the questionnaire deal with the land, the ranch, and Wibaux's way of life.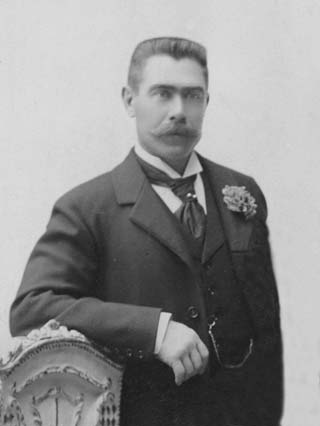 Pierre Wibaux. SHSND D0187
SUGGESTED READINGS:

Welsh, Donald H. "Three Bonanaza Ranchers in the Little Missouri Bad Lands." The Trail Guide, June 1960: 1-18.
This article gives biographical information on the three best-known ranchers of the Badlands of North Dakota. Including in the biographies are Theodore Roosevelt, the Marquis de Mores, and Pierre Wibaux.
Welsh, Donald H. "Pierre Wibaux, Cattle King." North Dakota History, January 1953: 5-23.
Welsh provides information on how Wibaux became one of the largest ranch owners of the West.
The Bad Lands Cow Boy
This is the newspaper edited by A.T Packard during the time in Medora when men like the Marquis de Mores and Theodore Roosevelt lived in the area.
Finding Aids on Ranching in North Dakota: