ARCHIVES HOLDINGS:
10036 Marquis de Mores
This collection of papers contains a scrapbook that the Marquis de Mores's wife kept during their time in Dakota Territory. It also contains information about his murder trial. Translations of manuscripts on the Marquis de Mores are located in the collection. Resources on his business affairs are included as well.
10069 Nina Farley Wishek
Included in these papers is a manuscript entitled, "The Marquis de Mores and the North Dakota Badlands."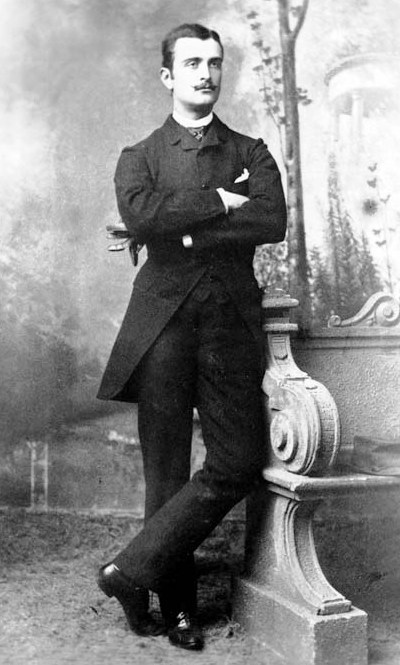 Marquis de Mores. SHSND 0042-064
10070 Usher Lloyd Burdick
Contained in Burdick's papers is an article on the murder trial of the Marquis de Mores.

10227 George H. Fairchild
The George H. Fairchild Collection contains an insurance policy for the Marquis de Mores's ice houses.

10691 Roy Johnson and Louis Pfaller
In Folder 23 of Box 51 of the Johnson and Pfaller Collection, there is information provided about the Marquis de Mores and his family. There are newspapers clippings about the land he donated to the SHSND. There is also an interview with the Marquis de Mores son, Louis. This interview provides information about the Marquis and his wife, Medora.

20487 Steven S. Schwarzchild
This collection contains a biography on the Marquis de Mores entitled, "The Story of a Failure: The Marquis de Mores, 1858-1896."
SUGGESTED READINGS:

Welsh, Donald H. "Three Bonanaza Ranchers in the Little Missouri Bad Lands." The Trail Guide, June 1960: 1-18.
This article provides biographical information on the three best-known ranchers of the Badlands of North Dakota. Including in the biographies are Theodore Roosevelt, the Marquis de Mores, and Pierre Wibaux. Information about their ranches along with the success of their ranches is also included in the article.

Goplen, Arnold O. "The Career of Marquis de Mores in the Badlands of North Dakota." North Dakota History, January-April 1946: 5-70.
This article is about the ranching business, the refrigerated railcar, and the Medora-Deadwood stagecoach, all of what the Marquis de Mores did while in Medora.
The Bad Lands Cow Boy
This is the newspaper edited by A.T Packard during the time in Medora when men like the Marquis de Mores and Theodore Roosevelt lived in the area.
Finding Aids on Ranching in North Dakota: