ARCHIVES HOLDINGS:
10006 Clement A. Lounsberry
This collection contains information about Indian boarding schools in the state. Items like head counts and other basic counts of the school are included. This collection also has information about the annuities given to the Lakota in the late Nineteenth Century.

10046 Dana Monroe Wright
In Box 7 Folder 1 of the Dana Monroe Wright Papers, the subject is Fort Totten Indian School. There is a yearbook from 1913. It describes the purpose of the school and the different classes offered.
10093 Fort Stevenson Indian School
These records contain the Fort Stevenson Indian School records. The information in the book contains the students' English names, their Indian name, behavior, academic ability, and school activities. If the student behaved badly, the records document the punishment the student received.

10924 Northern Plains Conference of the United Church of Christ Records
Two important missionaries, Charles L. Hall and Harold Case, worked on the Fort Berthold Indian Reservation with the Mandan, Hidatsa, and Arikara people. Boxes 5 and 6 of this collection contain histories of the missions, schools, and the reservation.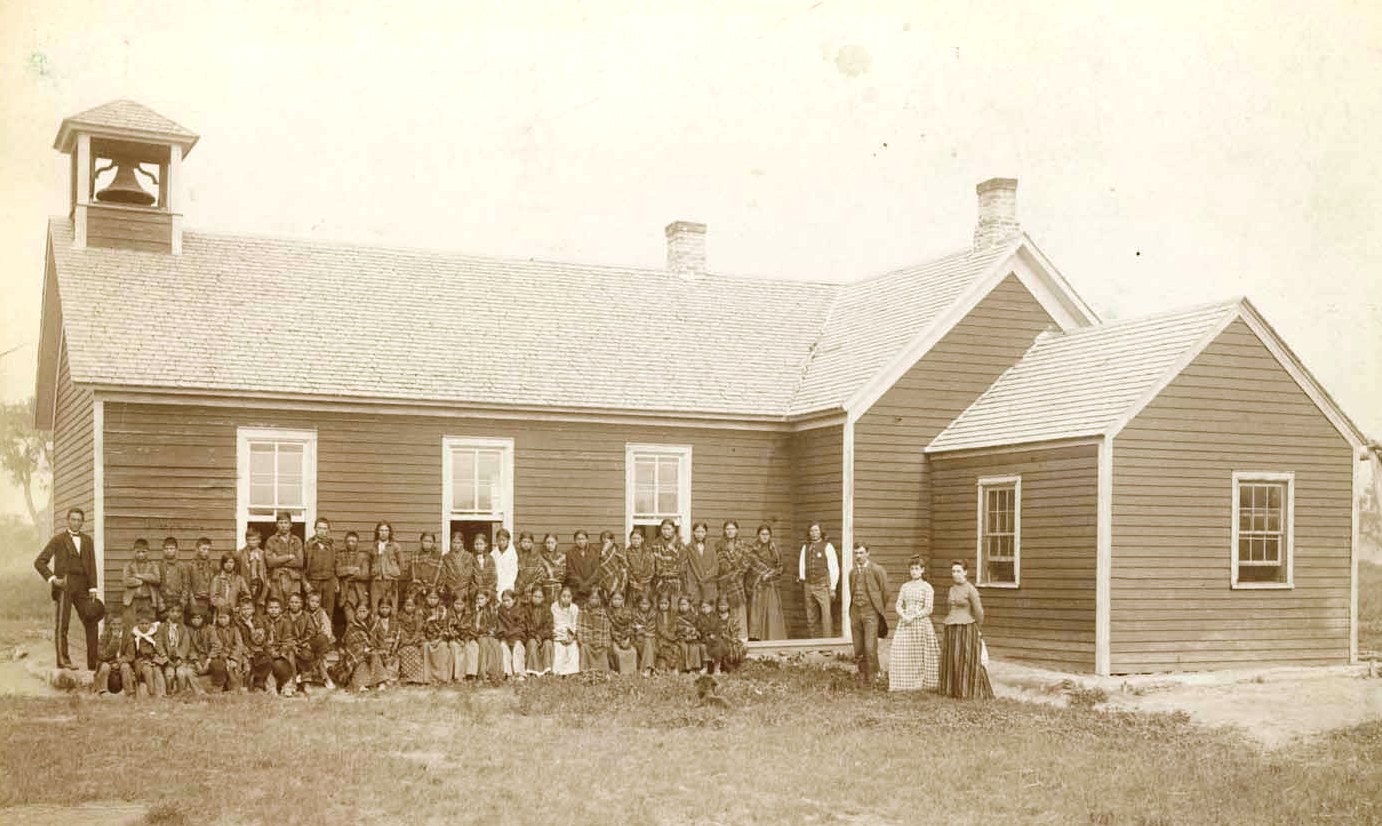 SHSND C1455
11113 Lydia Frerking Schneider - Bismarck Indian School
This collection consists of photographs and yearbooks from the Bismarck Indian School. The yearbooks are from the 1930s. During this time, the school only educated girls. The yearbooks contain history of the school, information about what the normal school day was like, and other activities during the school year.

20708 C.H. Kermott
Many Indian boarding schools were mismanaged. C.H. Kermott was a physician at Fort Totten. He heard of mismanagement happening at the school and then sent letters to people to inform them of the mismanagement. The folder also contains translation of common Indian words.
31857 SHSND Education and Intrepretation Division Indian Boarding Schools Oral History Interviews
This oral history project contains interviews with American Indians who attended boarding schools growing up.
50168 Fort Berthold Mission School Collection
The Fort Berthold Mission School rules for the students.

SUGGESTED READINGS:
Barrett, Carole, and Marcia Wolter Britton. ""You Didn't Dare Try to Be Indian": Oral Histories of Former Indian Boarding School Students." North Dakota History, Spring 1997: 4-25.
This entry contains the transcript of an oral history project based on Indian boarding schools in North Dakota. The Native Americans surveyed spoke about topics like discipline, health, a normal school day routine and other various topics.

Gipp, David M. "Education for the First Americans: A Personal Perspective." North Dakota History, Spring 1997: 2-3.
This article is a recollection from David Gipp who attended Indian boarding school and now is the president of a tribally operated college. He gives his views on what was wrong and right with Indian boarding schools.
Hultgren, Mary Lou. ""To Be Examples to...Their People" Standing Rock Sioux Students at Hampton Institute, 1878-1923." North Dakota History, Fall 2001:23-37.
This article provides insight to life at an Indian boarding school.
Finding Aids on Education in North Dakota: