ARCHIVES HOLDINGS:
10827 Walsh County Historical Preservation Commission
The Great Depression affected every part of the United States. In this oral history project, interviews were conducted with men and women who experienced the Great Depression in Walsh County, North Dakota. The interviews contain information about daily life, farming, school, and other information about the 1930s.
11123 Ken C. Brovald
This collection contains photos and research on the Great Depression in North Dakota.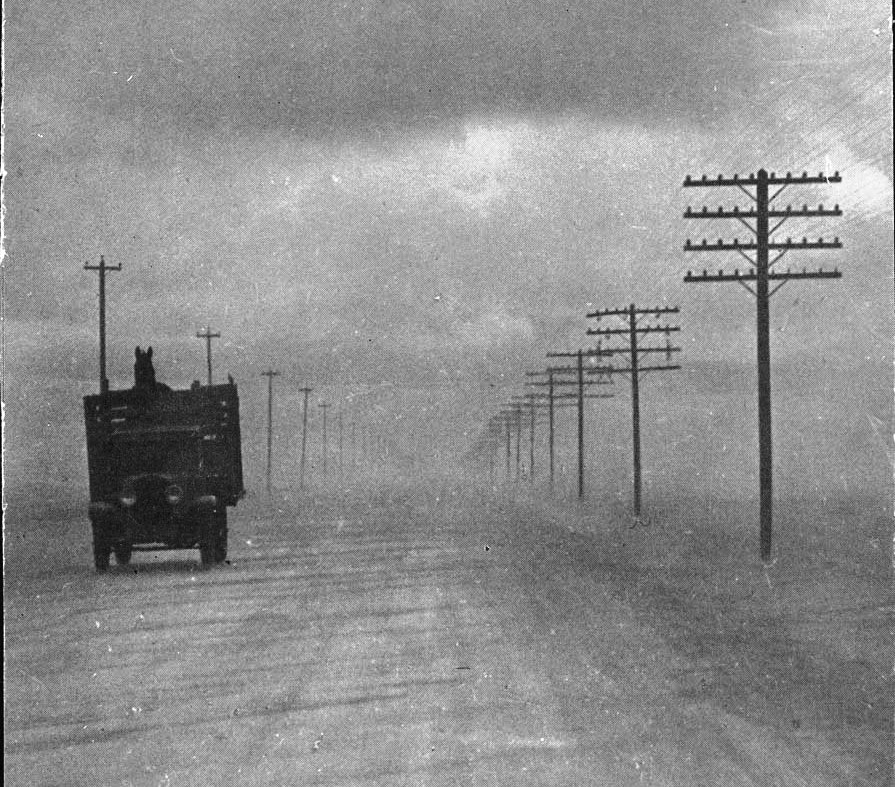 Dust storm during the 1930s. SHSND 0351-02
11134 Menge and Anderson Family
Included in this collection is a memoir by Christ Menge titled "My Story". In his memoir, Menge mentioned World War I and farming during the Great Depression.
21130 Ypsilanti, North Dakota 125th Anniversary Oral History
This oral history collection provides interviews with people who remember farming and living during the 1930s.
20904 Alexander Family
This autobiography tells the story of ranching in western North Dakota during the Great Depression.
40643 Adams County Extension Agent Annual Reports
This collection contains reports from the years of 1931-1934. In the reports there is information about drought and other hardships that hit farms like grasshoppers.

SUGGESTED READINGS:

Danbom, David B. "Fargo and the Great Depression." North Dakota History, Summer and Fall 1999: 41-49.
This article visits Fargo, North Dakota during the Great Depression. It examines what the perfect town actually went through during the tough times.
Stradley, Scot A. "Senator Lynn Frazier and Federal Agricultural Policy, 1923-1929." North Dakota History, Summer and Fall 1999: 30-40.
In Stradley's article, the farm policies during the Great Depression and Frazier's time in office are examined.
Finding Aids on the 1930s in North Dakota: