ARCHIVES HOLDINGS:

10046 Dana Monroe Wright
This collection contains research on the trail of the Sully Expedition.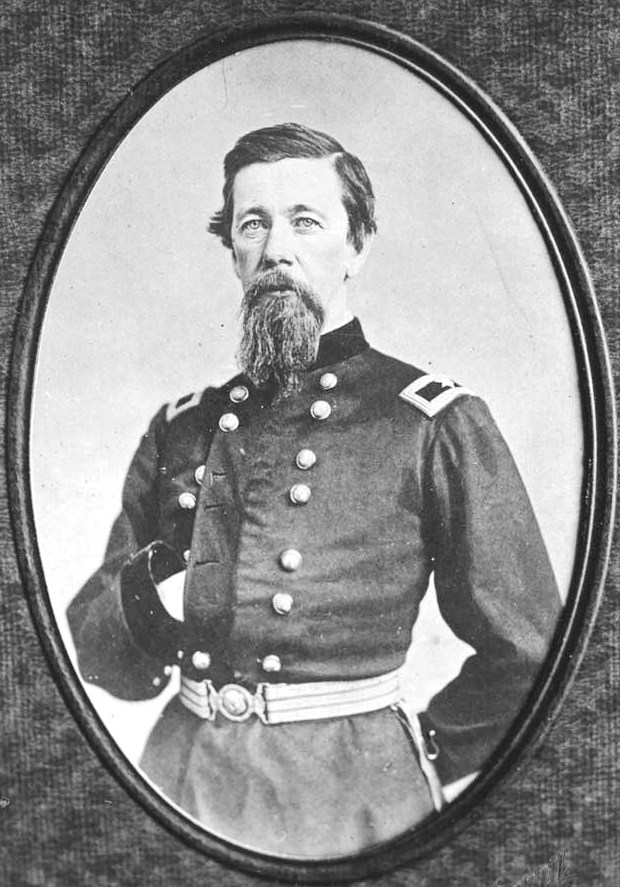 Alfred Sully. SHSND C0251
10691 Roy Johnson and Louis Pfaller
Box 4 of the Roy Johnson and Louis Pfaller Collection contains a lot of information on the Sully Expedition through Dakota Territory. There are accounts, letters, newspaper stories, maps, and pictures that all focus on Alfred Sully.
20002 C.A. Bennett
This folder contains C.A. Bennett's brief journal about Sully's expedition from Fort Rice to Devil's Lake and back in 1865. The journal contains what the company did each day. In addition, there is a list of how many Indians the troops saw each day.

20003 Harlen Page Bruch
This folder has a transcript of a letter written by Harlen Page Bruch to his family. The letter contains the story of Bruch's time with the Sully Expedition of 1864 in Dakota Territory and provides information about his time in the South during the Civil War.

20004 Sylvester Starling Campbell
Campbell's diary follows his time with Sully's Expedition. Campbell was a member of Company D in the Minnesota Calvary during the Sully Expeditions of 1864-1865. His diary documents the daily activities along with the amount of money Campbell spent.

20015 David N. Jenkins
David N. Jenkins writes of his time on the expedition looking for Indians, especially the ones who participated in the Minnesota Uprising.

20024 Frank Myers
Frank Myers was a member of Sully's Expedition through Dakota Territory. His diary keeps track of the miles the expedition walked each day. Each day he writes, he provides a description of what happened that day.

20056 Ole Johnson
Ole Johnson was a part of the Sully Expedition throughout 1863-1865. This is his journal. In his journal, he documents the weather and the daily activities of the expedition.

20059 Richard McConnell
McConnell's diary documents the time he spent with the Sully Expedition. He wrote his diary in 1864. He tracked daily activities along with how many buffalo the expedition saw.

20442 Ole N. Orland
Ole N. Orland was a member of the Sully Expedition. He wrote a diary entry every day of the expedition. In the diary, Orland wrote about Sully choosing a spot for Fort Rice and about the expedition through Dakota Territory to find the Native Americans responsible for the Minnesota Uprising.

20642 James Benton Atkinson
James Atkinson was a scout for the Sully Expedition in 1864. He kept track of the daily events that occurred while he was with the expedition.
21010 James M. Thomson
Thomson's diary provides information about the battle at Whitestone Hill.
Finding Aids on the Civil War in North Dakota: