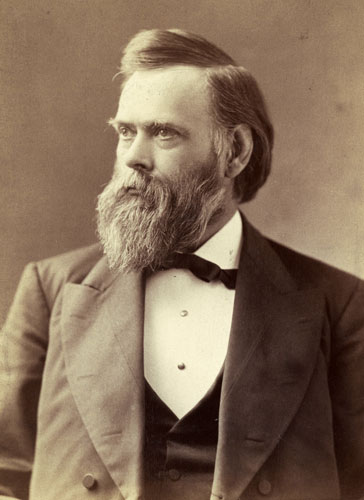 Image courtesy of Chicago Historical Museum
John Hutchinson, Acting Governor, June to October 1863
Photograph by C.D. Mosher, Chicago, ca. 1876
John Hutchinson, alumnus of Dartmouth College, studied law under William H. Seward of Auburn, NY. An anti-slavery advocate, he was an early settler of Lawrence, Kansas. Elected to the territorial legislature in 1855 under the Kansas-Nebraska Act, he was not seated; but was elected in 1857 and became Speaker of the House.
Tapped by William H. Seward and Abraham Lincoln, Hutchinson was appointed the first Secretary of Dakota Territory on March 26, 1861. John Hutchinson's family accompanied him to Yankton. William Jayne resigned to run for Congress in February 1863, and Hutchinson was acting governor until the appointment of Newton Edmunds as governor on October 5, 1863. Lincoln appointed Hutchinson as U.S. Consul to Livorno, Italy from 1865 - 1869.
He practiced law in Chicago, IL until his death in 1887. Hutchinson was a partner in the firm of Hutchinson & Carpenter in 1875, and by 1877 his partnership was in the firm of Hutchinson & Hind.