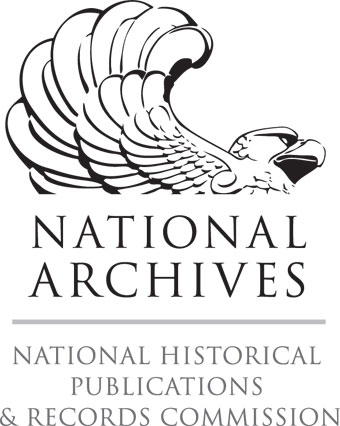 In 1925 the State Legislature passed a law that read, "that in addition to being recorded in the office of the Judge of the County Court, all marriages hereafter occurring within the State shall be registered with the State Registrar of Vital Statistics at the State Capitol as hereinafter provided." The counties sent the marriage licenses and certificates to the State Registrar, who then recorded them and returned them to the counties.
Prior to 1925, the records were kept only by the counties. To safeguard the information for the future, the State Archives received grant funding from the National Historical Publications and Records Commission to borrow the pre-1925 records from the counties for microfilming. The microfilming has been completed. With help from volunteers, the records are being indexed. It is hoped to complete this indexing project within a few years to include every county in the state.
The State Archives has pre-1925 marriage records on microfilm from the following counties: Adams, Barnes, Billings, Bottineau, Bowman, Burke, Burleigh, Cass, Cavalier, Dickey, Divide, Dunn, Eddy, Emmons, Foster, Golden Valley, Grand Forks, Grant, Griggs, Kidder, LaMoure, Logan, McHenry, McIntosh, McKenzie, McLean, Mercer, Morton, Mountrail, Nelson, Pembina, Pierce, Ramsey, Ransom, Renville, Richland, Rolette, Sargent, Sheridan, Sioux, Stark, Steele, Stutsman, Towner, Traill, Walsh, Ward and Wells.
Benson, Hettinger, Oliver, Slope, and Williams County marriage records are digital only.
Click an outlined county on the map below to view its list of marriages.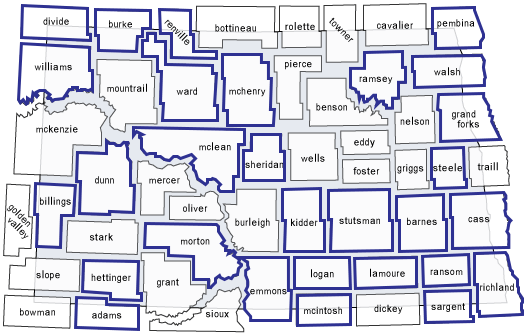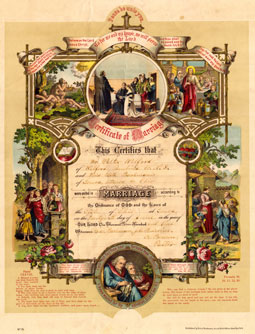 The State Archives also has some church records containing marriages and they are cataloged in WorldCat.
Marriages from all counties after July 1, 1925, can be located on the Division of Vital Records index, which is available in the Orin G. Libby Reading Room. Effective January 1, 2008, all certified copies of marriage records must be issued by the county where the license was originally purchased and filed. Please contact the appropriate county to obtain a certified copy.