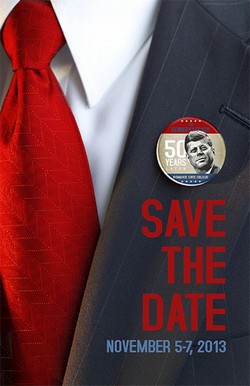 November 5-7, 2013
Bismarck State College National Energy Center of Excellence
Bismarck, North Dakota
Join us November 5-7, 2013 for this special symposium to examine the milestones of President John F. Kennedy's one thousand days in office and the legacy of those three years.
North Dakota native, Clint Hill, the courageous Secret Service agent who leapt onto the back of the presidential limousine in the midst of the assassination on Nov. 22, 1963, is one of our keynote speakers. His talk is one of many compelling sessions you can take part in during the Kennedy Legacy: 50 Years Later.
Other symposium topics include:
Kennedy in North Dakota
The Cold War
Warren Commission
Conspiracy theories
A Kennedy concert by the Bismarck-Mandan Symphony Orchestra
Save the date and look for additional information at www.Kennedylegacy.org. View the three-day agenda here.
All events are open to the public.
Address:
612 East Boulevard Ave.
Bismarck, North Dakota 58505
Get Directions
Hours:
State Museum and Store: 8 a.m. - 5 p.m. M-F; Sat. & Sun. 10 a.m. - 5 p.m.
We are closed New Year's Day, Easter, Thanksgiving Day, and Christmas Day.
We will also be closed on Christmas Eve this year.
State Archives: 8 a.m. - 4:30 p.m. M-F, except state holidays; 2nd Sat. of each month, 10 a.m. - 4:30 p.m.
State Historical Society offices: 8 a.m. - 5 p.m. M-F, except state holidays.
Contact Us:
phone: 701.328.2666
email: histsoc@nd.gov