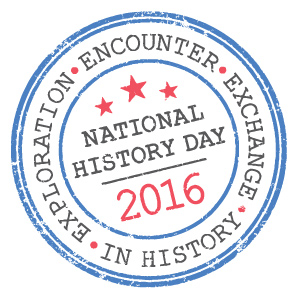 The National History Day theme for 2015 is "Exploration, Encounter, Exchange in History." This broad theme allows you to choose a topic to research that interests you. It could cover exploration across the world, or just in North Dakota. "Exploration, Encounter, Exchange in History" allows students to look closer at times in history when people explored new ideas in areas like science, religion, politics, art, culture, sports, and many other subjects.
Remember to consider the who, what, where, when, and whys of history, but most importantly, ask of you subject, "So what?" What was the impact from the exploration, encounter or exchange? How did it affect the culture, lives, or environment of the world? Why is this topic important and why must we understand the effects of it today? These questions should help you as you begin to research primary sources about an exploration, encounter, or exchange.
Use of primary source material from the State Archives in your project will not only improve the overall quality of the project but will provide you with a deeper understanding of North Dakota history and how to use an archives. With the help of the primary sources available at the State Historical Society of North Dakota, you are sure to find an interesting topic featuring North Dakota!
These finding aids contain the collection number and a brief description for "Exploration, Encounter, Exchange in History."
Finding Aids on Exploration, Encounter, Exchange in North Dakota History:
2016 North Dakota Theme Ideas (pdf)
Finding aids for collections at the State Archives
Exploration, Encounter, Exchange NHD 2016 Theme Sheet (pdf)
Information on National History Day
Teacher Resources:
These National History Day in North Dakota web pages were developed with support of the National Historical Publications and Records Commission.