Facility Rental
Make your next event historic.
Availability
The North Dakota Heritage Center offers rental opportunities perfect for meetings, conferences, dinners, receptions, and many other corporate and private events. From the stunning glass-enclosed Northern Lights Atrium to the Missouri River Event Center showcasing grand vistas of the Capital Grounds, you will find opportunities in a unique setting certain to be remembered!
Event Spaces:
Great Plains Theater
Russell Reid Auditorium
Three adjoining classroom spaces
Missouri River Events Center (former Lobby)
Badlands Plaza (outdoor plaza, west entrance)
Northern Lights Atrium*
Corridor of History*
*These spaces are available only outside regular State Museum hours.
Facilities are available for rental seven days per week, between 7 a.m. and 11p.m. For functions that occur outside of the State Museum's normal business hours, an additional fee is charged.
For more information on pricing, capacity, location and more, view our Fees For Use (pdf).
Equipment
Each room, with the exception of the Russell Reid Auditorium, will be equipped with 6-foot rectangular tables, chairs, a telephone, and microphones as requested.
Audiovisual equipment, such as slide projectors, overhead projectors, and easels, are available on request.
Wireless internet access is also availalble in meeting rooms and auditorium.
Food Service
Beverage and candy vending machines are available in the North Dakota Heritage Center. For any other food service needs, the facility user must furnish the food or beverages via a licensed food service vendor. Food is allowed in the meeting rooms, on the mezzanine, and in the reception area only.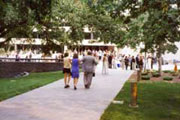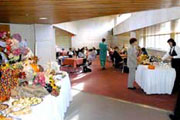 For Information, contact:
Visitor Services Coordinator
State Historical Society of North Dakota
612 East Boulevard Avenue
Bismarck, North Dakota 58505
701.328.2666
bcampbell@nd.gov

Address:
612 East Boulevard Ave.
Bismarck, North Dakota 58505
Get Directions
Hours:
State Museum and Store: 8am - 5pm M-F; Sat. & Sun. 10am - 5pm.
We are closed New Year's Day, Easter, Thanksgiving Day, and Christmas Day.
State Archives: 8am - 4:30pm., M-F, except state holidays, and 2nd Sat. of each month, 10am - 4:30 pm.
State Historical Society offices: 8am - 5pm M-F, except state holidays.
Contact Us:
phone: (701) 328-2666
fax: (701) 328-3710
email: histsoc@nd.gov