Beautiful Events

start with Beautiful Spaces.
Whether it's an intimate seated dinner surrounded by the brilliance of our spectacular glass atrium or an elegant corporate event in the Missouri River Event Center, the North Dakota Heritage Center offers imaginative new spaces to make every event truly unforgettable. We offer architecturally stunning and educationally rich spaces where people can eat, visit museum galleries, and socialize in the shadow of a towering mastodon.
Create the ideal event for 20 to 2,000 guests. Our Visitor Services staff can help you plan a spectacular customized affair!
Event Spaces
Facilities are available seven days a week between 7 a.m. and 11 p.m. Some spaces are available for rent only after regular museum hours.
For more information on pricing, location and more, view our Fees For Use pdf.
Equipment
Most rental spaces may be equipped with tables, chairs, a telephone, and microphones. Audiovisual equipment such as slide projectors, overhead projectors, and easels are available on request.
Food Service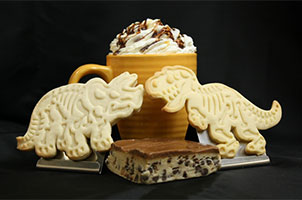 The James River Café offers North Dakota-themed breakfast pastries, soups, sandwiches, pizzas, specialty desserts and coffees, and more. The café is available for catering appetizers and full meals during regular hours and after hours. For food service needs, facility users must furnish food and beverages via the James River Café or from any licensed food service vendor. The café staff has the first right of refusal on catering during regular business hours and is available to work with your event planners to meet your needs. Vending machines are on site.
For the James River Café, contact Edgar at 701.751.5996 or edgar@harvestbraziliangrill.com.
Reservations
For Information & Reservations, contact:
Toni Reinbold
Event Coordinator
701.328.4187
treinbold@nd.gov
Address:
612 East Boulevard Ave.
Bismarck, North Dakota 58505
Get Directions
Hours:
State Museum and Store: 8 a.m. - 5 p.m. M-F; Sat. & Sun. 10 a.m. - 5 p.m.
We are closed New Year's Day, Easter, Thanksgiving Day, and Christmas Day.
We will also be closed on Christmas Eve this year.
State Archives: 8 a.m. - 4:30 p.m. M-F, except state holidays; 2nd Sat. of each month, 10 a.m. - 4:30 p.m.
State Historical Society offices: 8 a.m. - 5 p.m. M-F, except state holidays.
Contact Us:
phone: 701.328.2666
email: histsoc@nd.gov