The Seeds of Victory: Home Gardening Posters from the World Wars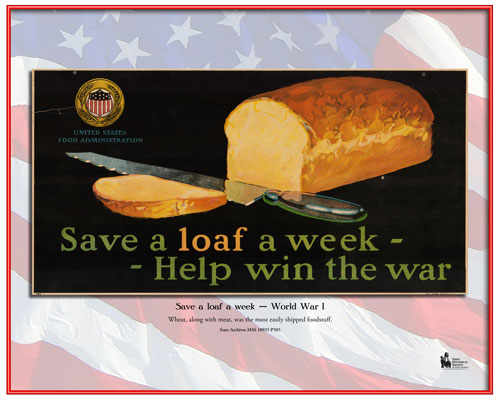 To help the United States win World War I and World War II, civilians made do with less so there would be enough supplies for the armed forces. Planting a garden was encouraged by the federal government to supplement civilian shortages and allow raw materials to be diverted to the military. Through propaganda such as posters, governments and private entities encouraged growing one's own food. Gardening and canning became patriotic acts.
AVAILABILITY
Exhibits are available on a first-come, first-serve basis. It is best to make requests as soon as possible.
Each exhibit is generally available for eight weeks at a time. This includes a six week installation with an additional two weeks to allow for shipping, installation, de-installation, and return shipping.
Extensions may be accommodated only if they do not interfere with other reservations.
REQUIREMENTS
These exhibit panels should be displayed in a room or area that has some security measures in place such as an area that is regularly staffed or monitored, and that can be locked when not staffed.
SIZE
Thirty-four framed, full-color war garden posters, reproduced from the originals held by the North Dakota State Archives. Three panels measure 22 inches by 28 inches. The remaining 31 panels measure 16 inches by 20 inches.
Requires a minimum of 70 linear feet of wall space.
Ships in four exhibit cases.
FEE
$25 to pick an exhibit up at the Heritage Center, on the North Dakota State Capital Grounds at 612 East Boulevard Avenue, Bismarck, ND 58505.
$150 to have an exhibit shipped to any location within North Dakota (round-trip shipping).
Shipping out of state: Fees vary per exhibit. Contact the Outreach Coordinator at 701-328-2794 or dlstuckle@nd.gov get an estimate for shipping and handling for your location.
Full payment must be received before the exhibit can be picked up or shipped.
OTHER RESOURCES
To enhance the exhibit, we encourage you to add objects from your own collections related to gardening, World War I, and World War II. If your organization does not have collections, this is a good opportunity to partner and collaborate with other local and regional libraries and museums. The following objects would be appropriate for display with this exhibit:
Gardening implements and tools
Additional posters or advertisements regarding rationing and gardening
Ration books and stamps
Canning supplies
Period cook books
Check out the How Does Your Garden Grow? online exhibit. Check out the image galleries and expanded themes that cover gardening from pre-history to modern day.
There is also a Suitcase Exhibit for North Dakota (SEND) trunk that explores the history and culture of agriculture in North Dakota that complements the panel exhibit. Learn more about the SEND program here.