Red River Entrepreneur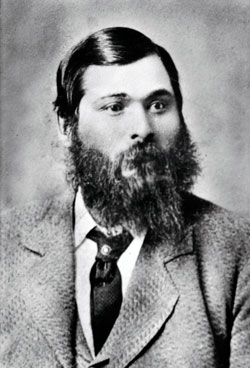 Antoine Gingras
For about a hundred years the fur trade flourished in the Pembina region. Antoine Blanc Gingras (1821-1877) lived through much it. A shrewd businessman, he died a wealthy man with a chain of trading posts in present day North Dakota and Manitoba, with business connections stretching to Minnesota. His experiences give us a personal look at the fur trade and Métis culture during a unique time in North Dakota's history.
AVAILABILITY
Exhibits are available on a first-come, first-serve basis. It is best to make requests as soon as possible.
Each exhibit is generally available for eight weeks at a time. This includes a six week installation with an additional two weeks to allow for shipping, installation, de-installation, and return shipping.
Extensions may be accommodated only if they do not interfere with other reservations.
REQUIREMENTS
These exhibit panels should be displayed in a room or area that has some security measures in place such as an area that is regularly staffed or monitored, and that can be locked when not staffed.
SIZE
Five framed panels, each measuring 36 inches x 36 inches.
Requires a minimum of 20 linear feet of wall space.
Ships in one exhibit case on wheels.
FEE
$25 to pick an exhibit up at the Heritage Center, on the North Dakota State Capital Grounds at 612 East Boulevard Avenue, Bismarck, ND 58505.
$150 to have an exhibit shipped to any location within North Dakota (round-trip shipping).
Shipping out of state: Fees vary per exhibit. Contact the Outreach Coordinator at 701-328-2794 or dlstuckle@nd.gov get an estimate for shipping and handling for your location.
Full payment must be received before the exhibit can be picked up or shipped.
OTHER RESOURCES
To enhance the exhibit, we encourage you to add objects from your own collections related to the Chippewa and Metis; the fur trade, and the Red River Valley. If your organization does not have collections, this is a good opportunity to partner and collaborate with other local and regional libraries and museums.
There is also a Suitcase Exhibit for North Dakota (SEND) trunk that explores the history and culture of the Chippewa/Métis in North Dakota that complements the panel exhibit. Learn more about the SEND program here.