Bridges of North Dakota

Bridges over Missouri River, Bismarck ND. SHSND# 0790-08
Crossing valleys, rivers, and other obstacles, bridges knit the people and places of a place together. Bridges tell us about historic travel patterns, engineering advances, and new building materials. Ultimately, bridges are a reflection of their community and the people who built them. Bridges of North Dakota features photographs of bridges from across the state, spanning the time period from 1872 to the present. The suspension footbridge in Valley City, the rainbow arch bridge at Mott, the Burlington Northern Santa Fe trestle over the Gassman Coulee outside of Minot—these are just a few of the iconic bridges featured in the Bridges of North Dakota traveling exhibit.
AVAILABILITY
Exhibits are available on a first-come, first-serve basis. It is best to make requests as soon as possible.
Each exhibit is generally available for eight weeks at a time. This includes a six week installation with an additional two weeks to allow for shipping, installation, de-installation, and return shipping.
Extensions may be accommodated only if they do not interfere with other reservations.
REQUIREMENTS
These exhibit panels should be displayed in a room or area that has some security measures in place such as an area that is regularly staffed or monitored, and that can be locked when not staffed.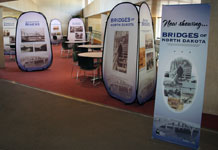 SIZE
Five, three-sided fabric kiosks. Each kiosk measures 80 inches tall and takes up approximately eight square feet. They collapse to the size of a large pizza for easy shipping and storage. Click here to view a PDF of the Bridges Setup Instructions.
Ships in one exhibit case on wheels.
FEE
$25 to pick an exhibit up at the Heritage Center, on the North Dakota State Capital Grounds at 612 East Boulevard Avenue, Bismarck, ND 58505.
$150 to have an exhibit shipped to any location within North Dakota (round-trip shipping).
Shipping out of state: Fees vary per exhibit. Contact the Outreach Coordinator at 701-328-2794 or dlstuckle@nd.gov get an estimate for shipping and handling for your location.
Full payment must be received before the exhibit can be picked up or shipped.
OTHER RESOURCES
The exhibit is accompanied by a DVD, promotional banner, and book. The video component integrates historical photographs with 1920s and contemporary film footage.
To enhance the exhibit, we encourage you to add objects from your own collections related to bridges and water resources. If your organization does not have collections, this is a good opportunity to partner and collaborate with other local and regional libraries and museums.
There are also Suitcase Exhibit for North Dakota (SEND) trunks that explore the history and culture of truss bridges and water resources in North Dakota that complement the exhibit. Learn more about the SEND program here.
You may also be interested in the book Bridges Across North Dakota.
Produced in conjunction with the TIES project, this stunning coffee table book is the first of its kind featuring beautiful photographs of many of our state's bridges. Created by the ND Department of Transportation, it celebrates the historic and modern bridges in our state.
CREDIT/SPONSORS
The exhibit was produced by the State Historical Society of North Dakota, in cooperation with the North Dakota Department of Transportation with federal funding provided by the Federal Highway Administration, North Dakota Division, Bismarck, ND.